NFL quarterback Johnny Manziel hit his girlfriend Colleen Crowley so severely on Jan. 29 that she suffered a ruptured eardrum and still can't hear in her left ear, the woman's attorney said Monday.
"They expect (her ear) to heal but it'll take a while," Dallas attorney Kathy Kinser told NBC 5.
Kinser represents Crowley, who wrote in an application for a protective order that she and Manziel dated for two years and lived together for four months in Cleveland before the alleged attack in Dallas last month.
Dallas police re-opened the criminal case on Friday and NBC 5 has reported that police in Fort Worth are also investigating.
Manziel, the Cleveland Browns quarterback who became the first freshman to win the Heisman Trophy while playing at Texas A&M, agreed to the order, which forbids him from seeing her for two years.
Court Document Reveals Claims Against Manziel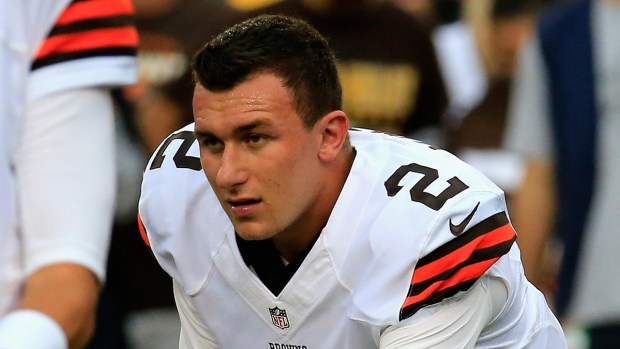 Crowley's version of what happened that night, including more alleged violence and threats that Manziel would kill himself, is detailed in a sworn statement she wrote to obtain the protective order. Manziel's attorney did not immediately respond to a request for comment Monday.
She said the two went to dinner at Victor Tangos restaurant in Dallas with three friends, then went to two bars before going to an "after party" at Hotel ZaZa. The friends left Manziel and Crowley alone.
"We planned to spend the night together in his room there," Crowley said in the statement.
"We started having a discussion about things I had heard earlier in the week about him being with a girl who had caused us problems in the past," Crowley said. "I told (him) that if I was going to spend the night, it would be on the couch."
Crowley said Manziel threw her on the bed.
"He claimed it was 'playfully' but it frightened me and I took it seriously," she said.
Crowley said she decided to leave the hotel but he "restrained" her from leaving.
"I tried to fight him off," she said. "I became very scared that he was going to hurt me."
She said Manziel continued to restrain her and led her down a back stairway to the valet.
"When we got to the valet, I was crying and begged the valet, 'Please don't let him take me. I'm scared for my life," she wrote. "The valet replied, 'I don't know what to do,' and allowed Manziel to "literally throw me in the front passenger seat of his car."
In a statement to NBC 5, Avi Niego, manager at Hotel ZaZa said, "(It) is our policy not to comment publicly on any aspect of our operation."
Manziel's Ex-Girlfriend Details Alleged Beating
Manziel and Crowley drove to a nearby bar where she had earlier parked her car, she said.
"I jumped out of the car and ran across the street and hid behind some bushes," she said. "He flipped a U-turn and pulled right in to where I was hiding. He grabbed me by my hair and threw me back into the car."
That's when Crowley said Manziel hit her in the head on her left ear.
Crowley said she tried to hit back but Manziel threw her off and she hit her head on the car window and fell on the floorboard.
"Still fearful for my life, I stayed in the floorboard motionless until (Manziel) pulled me back onto the seat. He was telling me to 'stop' and wouldn't let me have my phone.'"
The two drove down Interstate 30 from Dallas to Fort Worth, where Crowley, a TCU student, has an apartment.
Crowley said she at first told him she hated him but Manziel told her he was going to take her car and kill himself.
"I thought maybe he was on drugs or having a psychotic break so to keep him calm I began telling him, 'I love you. We can figure this out. We can talk,'" she said.
Manziel started laughing, she said.
"I started crying even more and he told me, 'Shut up or I'll kill us both,'" she said.
She said he responded by saying, "I would never kill you. You don't deserve that. I would only kill myself."
Crowley said they arrived at her apartment and continued to fight, which she described as "more verbal than physical."
"He then smashed my phone onto the tile in my apartment entry," she said. "I was in my kitchen so out of fear for my life, I pulled a knife out of my knife block and advanced toward him. He ran out of the apartment."
She said she screamed for help and a neighbor came out. He ran.
Fort Worth police have said officers searched for him with the help of a helicopter but couldn't find him.
"I continue to be extremely concerned for my health and well-being," Crowley wrote.
Manziel signed the protective order, agreeing not to be around Crowley for two years and pay Crowley's attorney's fees of $12,500.
Manziel's attorney, who is listed on the court documents as Brad Beckworth of Austin, did not return a telephone call seeking comment Monday.
Kinser said Crowley met with Dallas police on Friday.
Dallas police have released no new information on the case since announcing on Friday they were investigating.