The storms that rumbled through North Texas Friday afternoon and evening transitioned to snow showers Saturday morning thanks to a strong cold front that moved through the Metroplex overnight.
Snow was visible on radar in Denton, Tarrant, Grayson, Cooke and Fannin counties; Collin County showed a wintry mix and rain.
By 11 a.m. almost all of the snow had disappeared from the radar.
The snowfall covered Denton town square, blanketing the grounds around the Denton County Courthouse. Whatever falls won't stick around for long and any accumulation should melt pretty quickly.
Your Pictures of Snow in North Texas on Jan. 11, 2020
The rain and snow Saturday morning was the final bit of precipitation to fall from the storms that rumbled through DFW Friday afternoon and evening.
The storms set off outdoor warning sirens across North Texas as a strong line of thunderstorms with a history of producing at least one tornado pushed through the area on a "very active, uncharacteristic January afternoon."
The main threats with Friday's storms were the potential for powerful tornadoes, large hail and flooding. At least one tornado was confirmed visually while several others were confirmed on radar. Hail reports appeared to top out at quarter-sized while most reports were of the much smaller pea-sized variety; there were only a few flood warnings, areal flood warnings and reports of water rescues.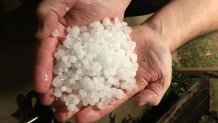 As the leading edge of the storm pushed past, the threat of tornadic activity was reduced and the new threat was lightning and heavy downpours. Friday night there were two reports of house fires believed to have been started by lightning in Burleson and Mansfield. Over in Dallas, a person was killed when their car was involved in a crash and rolled into a creek in Oak Cliff.
Friday's Tornado Warnings
There are no active Tornado Warnings at this time. A history of tornado warnings issued Friday is below.
A Tornado Warning was issued at 6:46 p.m. for Collin, Dallas and Denton counties after a storm with a history of producing at least one tornado was located near Coppell, moving northeast at 40 mph. The warning expired at 7 p.m.
A Tornado Warning issued at 5:42 p.m. for Johnson and Tarrant counties was extended until 6:45 p.m. and expanded to include part of Dallas County were canceled at 6:33 p.m.

At 5:49 p.m. a radar confirmed tornado was located near Joshua moving NE at 35 mph. At 6 p.m the NWS said the severe thunderstorm with a history of producing a tornado was located over Crowley moving NE at 35 MPH. That storm pushed through Forest Hill and across Interstate 20 near Tarrant County College's South Campus at 6:09 p.m. Shortly before that, spotters reported seeing a funnel cloud near the Loop 820 and U.S. Highway 287 split. The storm continued moving to the northeast at 35 mph. At 6:19 p.m., the part of the storm with a history of rotation was passing through western Arlington/eastern Fort Worth near Eastchase Parkway and Interstate 30. At about 6:30 p.m. it passed over the NBC 5 Studios and DFW Airport shortly before the warning was canceled.

For areas west of the leading edge of the storm, the threat of rotation and tornadic activity is diminished, Mitchell said. The threat of small hail may remain until the storms have passed.
A Tornado Warning issued at 6:05 p.m. for Delta, Hopkins and Lamar counties expired at 6:30 p.m.
A Tornado Warning was issued for Hood County at 4:54 p.m. and was canceled at 5:07 p.m. At 4:50 p.m., the NWS said spotters reported a funnel cloud near Tolar.
A Tornado Warning was issued for four counties, Bosque, Erath, Hamilton and Somervell at 4:24 p.m. The warning was canceled for Hamilton at 4:37 p.m. and for Bosque, Erath and Somervell at 5:01 p.m.
Tornado Warnings were issued for four counties, Ellis, Henderson, Kaufman, Navarro, at 4:23 p.m. and were canceled at 4:54 p.m.
A second Tornado Warning was issued for Cooke County at 3:34 p.m. and expired at 4:14 p.m. At 3:57 p.m. a severe squall line capable of producing tornadoes and straight-line wind damage was located along a line extending from Gainesville to 8 miles southeast of Lindsay, moving northeast at 55 mph.

The Tornado Warning issued for Wise County was issued at 2:45 p.m. and expired at 3:30 p.m. The radar-indicated tornado was located near Boyd, 8 miles northwest of Briar moving northeast at 50 mph at about 2:45 p.m. Radar showed convergent rotation but a tornado has not been confirmed. At 3:07 p.m. the storm capable of producing the tornado was located 3 miles east of Decatur moving northeast at 45 mph.

The Tornado Warning in Cooke County went into effect at 2:39 p.m. and was canceled at 2:56 p.m., according to the NWS. The warning was issued for a radar-indicated tornado about 7 miles northwest of Gainesville and moving north toward the Red River at 45 mph.
Severe Thunderstorm Warnings
All active Severe Thunderstorm Warnings have expired as of 8 p.m. Friday.
Flood Warnings
Flood Warnings have been issued for the West Fork of the Trinity River near Boyd until 5:30 p.m. Saturday and for the Elm Fork of the Trinity River in Gainesville until 9:11 a.m. Saturday.
Storm Anxiety?
It's important to remember that a tornado watch only means conditions are favorable for tornadoes in the defined area. It does NOT mean there is an active tornado -- that's a tornado warning. People in these area of a tornado watch should be on the lookout for threatening weather conditions and listen for statements and possible warnings. The NBC DFW app uses GPS data to send you weather alerts to let you know, wherever you are, when a watch turns to a warning. Learn more here.
---
Weather Links
---
Stay Weather Aware
Continuing coverage of severe storms forecast to hit North Texas
---
Copyright The Associated Press and NBC 5