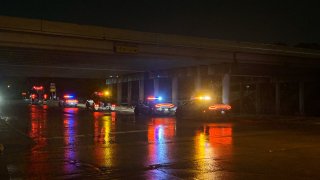 One person is dead after the vehicle he was in landed upside down in a Dallas creek.
The incident happened about 6 p.m. Friday in the 1500 block of Pentagon Parkway in central Oak Cliff.
Dallas Fire-Rescue said there were two people inside the car when they were involved in a crash. The car landed upside down in the Fivemile Creek.
Both people were taken to a nearby hospital where one later died. The second is said to be in stable condition, according to Dallas Fire-Rescue.
The Dallas County medical examiner's office identified the man who died as 25-year-old Enrique Sanchez Munoz.
It's unclear whether Sanchez Munoz was the driver.
Police said unsafe speed and a failure to negotiate a turn in the road contributed to the crash.