Update: School Closings | Weather Alerts | Interactive Radar
---
A series of cold fronts headed to North Texas over the next few days could bring some snow along with bitter, life-threatening cold to the Metroplex.
A Winter Weather Advisory issued for Thursday expired at noon. Dozens of North Texas school districts either closed, opened late or shifted to virtual learning Thursday. As decisions are made about Friday, click here for the updated list of closures.
Freezing drizzle and light freezing rain came to an end Thursday morning, but with temperatures not expected to climb above freezing, any ice on sidewalks and roadways may remain overnight into Friday.
Before dawn on Thursday, roughly 100 vehicles were involved in a massive pileup in Fort Worth that killed at least five people and injured dozens of others. Three others were killed in crashes in Dallas.
Road conditions to the south and in Central Texas are expected to be far worse than those in North Texas on Thursday and Friday.
There is a slight chance for more freezing drizzle to fall on Friday morning. Drivers are warned to continue to expect hazardous road conditions due to the possibility of light icing on elevated roads, bridges, and overpasses.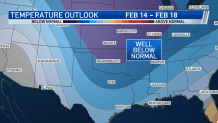 The cold fronts won't just be a glancing blow of cold air. It looks like once the colder air arrives in Texas it will stay for several days.
The long-range forecast calls for below-normal temperatures, dropping into the low single-digits, well into next week bringing cold not seen in North Texas since the mid-90s.
On Sunday, some forecast models are showing the potential for several inches of powdery snow in North Texas. With temperatures expected to be well below freezing and dangerously cold, any snow that falls is expected to accumulate.
See the latest weather forecast from NBC 5's team of Weather Experts below.