A slow moving weather system produced very heavy rain across much of North Texas Tuesday and Wednesday. A Flash Flood Watch was allowed to expire Wednesday night.
Rainfall totals were impressive Tuesday with some areas of Collin County picking up more than 7 inches of rain. A few areas west of Dallas-Fort Worth picked up over 4 inches of rain overnight.
Dramatic video and pictures showed cars submerged in feet of water inside Parking Garage B at Dallas Love Field Wednesday morning, where more than 3 inches of rain fell overnight.
Raw: Heavy Rain Floods Cars Parked at Dallas Love Field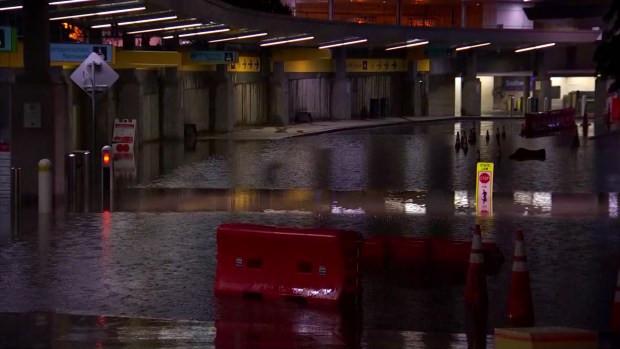 High water was reported on several area roads. NBC 5 cameras captured people stranded in floodwater along the Interstate 35E Frontage Road near Walnut Hill Lane in Dallas.
The rain will diminish in frequency by late Wednesday and should end completely on Thursday. In addition to the heavy rain, some thunderstorms may contain gusty winds.
Dry and sunny weather is expected Friday through the weekend.
Maps & Radars
Latest NBC 5 Forecast
Get the latest forecast information from NBC 5's team of Weather Experts here.
What To Do Before the Storm
Stay Connected. Download the NBC DFW App
Charge your phones and tablets so that if you lose power you can still watch live weather coverage in the App.
Have a plan for hail safety and tornado safety (see below).
Tornado and Hail Safety