More than 200,000 North Fort Worth residents are now being urged to boil their water prior to consumption after a power outage at a water treatment plant, the city says.
A city news release on Tuesday said the issue affects 210,000 people in North Fort Worth. Cities that buy water from the plant -- Haslet, Keller, Lake Worth, Northlake, Roanoke, Saginaw, Southlake, Trophy Club and Westlake are being told to boil their water as well.
The issue stemmed from a power outage at the Eagle Mountain Treatment Plant, which provides water to the affected cities. The plant and raw water pump station in the 6800 block of Bowman Roberts Road lost power Monday afternoon and has since experienced multiple outages.
At a briefing Tuesday, Fort Worth's water director Chris Harder said there were 17 water main breaks on Monday and 14 as of Tuesday morning.
"What was somewhat of a shock to us was the number of power outages to our plants and our pump stations. We had four plants in operation and three of them suffered power outages," Harder said. "Right now, the Eagle Mountain plant is still down. Power was on around midnight last night. We tried to get the pump stations up but the valves were frozen, so we are working to unfreeze those valves."
The city said it expected the notice to stay in place through at least late Wednesday.
At the same briefing Tuesday, Mayor Betsy Price reiterated the city did not control the power grid or energy supply.
"I know you're frustrated and know you're feeling like you want to blame someone, but now is not the time to blame people. I want to assure you that anger can be better served if you'll help each other and help us as a city get through this," Price said. "When this is done, we will demand answers and we will find solutions should this happen again."
Much of Texas has experienced rolling power outages Monday due to winter weather across the state.
The city said water in a northside elevated water tank was drained, leaving many customers without any water. Once water pressure is restored, those without any water will have access again but will be urged to boil it before use.
Gina Kim of Fort Worth said they had been without water since Monday. Their home has also experienced power outages for hours at a time.
"We're using what water we were able to get into pots and pans before the water went out and then some bottled water that we had in the car, just randomly," Kim said.
The water boil notice is to ensure the destruction of harmful bacteria for drinking, cooking and ice making. The city said water should be brought to a "rolling boil" for two minutes before use.
Residents will be notified once the water boil notice is no longer in effect.
For questions about the boil water notice, residents can call 817-392-4477 or email MyWaterAccount@FortWorthTexas.gov.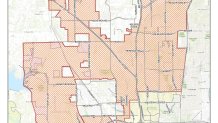 NBC 5's Lili Zheng contributed to this report.