Several North Texas cities are asking people to conserve their water while some municipalities are urging people to boil their water. Please check your city's website and social media to find out the status of calls for conservation or canceled calls for conservation.
Water pressure issues stemming from power outages are being reported at treatment plants across Dallas-Fort Worth -- leading to calls to boil the water before use.
Natural Grocers is providing free, filtered water to anyone that is affected by the storm. Those who are in need of clean water can stop by any Natural Grocers and fill up five gallons for free using the stores' reverse osmosis water filtration machines.
Why do we boil water when the power goes out?
Lower water pressure in the pipes allows groundwater and other contaminants to seep into older pipes that may have cracks. Some of that groundwater could contain harmful bacteria that can only be eliminated by boiling the water.
In all cases where a boil water notice has been issued, you should boil the water for consumption but also for brushing teeth and washing hands. Children, seniors and those with weakened immune systems are particularly vulnerable to harmful bacteria that could exist in the water.
Water for Drinking or Preparing Food
Bring the water to a vigorous, rolling boil for five minutes and then allow it to cool before using. Boil tap water even if it's filtered.
You can boil water and then store it in the refrigerator for later use.
You can also substitute bottled water if available.
Do not use any water from an appliance connected to the water line, such as filtration systems or ice and water from a refrigerator.
Other Uses of Water:
During a boil water notice, IT IS safe to shower or bathe as long as you don't ingest the water. (As long as your city has not asked you to conserve for consumption only)
Use caution when bathing babies and young children, consider a sponge bath to reduce chances of them swallowing water.
Only brush your teeth with boiled or bottled water.
If possible use disposable plates, cups and utensils. Dishwashers are safe to use if the final rinse temperature gets to at least 150 degrees or if you have a sanitizing cycle.
It is safe to wash laundry as usual.
Use bottled or boiled water for cleaning, or water that has been disinfected with bleach.
Do not let pets drink tap water, either boil the water or use bottled water.
Tap water can be used to water plants.
Once power is stabilized and water pressure is restored, it may take 24 to 48 hours before the boil water notice is lifted.
Below is a list of cities with water notices in effect. Cities will notify residents when the boil notices are rescinded.
We will make every attempt to keep this list current but notices may have changed since they were added to this page, check your city's website for the most updated information.
Winter Weather Recovery
After several days of sub-freezing temperatures, some melting is expected Friday and Saturday.
Alvarado
The city of Alvarado has no water pressure and said Saturday afternoon that there would be no water service through the weekend. The city will reevaluate on Monday morning.
Anna
The boil water notice for Anna residents and businesses was rescinded on Sunday morning.
According to a news release, the boil water notice was issued early last week as a result of power loss to the City's water system facilities. The cold weather interrupted electrical service to the system, causing the Texas Commission on Environmental Quality to require Anna customers to boil water for personal use.
On Saturday, the City of Anna public water system conducted testing and sampling to ensure the City's drinking water supply was safe for consumption by collecting and testing bacteriological samples from representative sites within the distribution system.
All samples submitted for testing met or exceeded the TCEQ standards for drinking water for human consumption, officials with the City of Anna said.
"While we worked hard behind the scenes to ensure our community could return to some semblance of normalcy, residents stepped up and not only complied with these safety directives, but they also looked out for one another," Anna Mayor Nate Pike said. "That kind of neighbor-to-neighbor care is what gives Anna the uniqueness that we celebrate everyday."
The City had originally set Tuesday as a target date for rescinding the boil water notice.
Arlington
A city-wide boil water order has been lifted for Arlington residents as of Saturday morning.
Water pressure throughout Arlington returned to normal levels early Friday and laboratory tests were conducted to determine when to lift a precautionary boil water alert.
"Eighteen hours after collection and lab set up is required for incubation and assessment of the samples," Arlington Water Utilities Director Craig M. Cummings said.
Cummings said Arlington pulled water samples from all over the city to test. The city has 100 regulatory testing sites pre-determined in 22 sectors.
Arlington Water Utilities' laboratories reported Saturday that all 22 tap water samples collected from sites across the city met TCEQ requirements.
The City had no indication that water quality was compromised. However, when pressure drops bacteria could enter the system through breaks in the pipes and testing confirms that the treated water prevented bacteria from entering the system.
Arlington called for residents to conserve water, and residents can continue water dripping from faucets as temperatures drop at night, but residents who did have water were asked to put off non-essential water uses like laundry until after the boil water alert was lifted.
Arlington Water field operation crews responded to four active leaks on water mains in the City. Arlington officials said breaks in the City's water mains and breaks in private plumbing lines contributed to the drop in pressure on Wednesday.
Meanwhile, Arlington Water Utilities and the Arlington Fire Department responded to an ongoing list of emergency water cutoff calls from homes and businesses where breaks have occurred.
If you have a broken water line or see a broken water line, please call 9-1-1 so it can be logged and repaired as quickly as possible, the city said.
Questions can be directed to Arlington Water Utilities at 817-275-5931 or the Texas Commission on Environmental Quality at 512-239-1000.
The City of Arlington has compiled a Frequently Asked Questions page here for citizens to learn more about the boil water alert. It is available by clicking here.
Benbrook
Benbrook is lifting its boil water order at 12:35 p.m. Friday. TECQ testing shows the water is safe for human consumption.
Denton
The city of Denton boil water notice for Denton residents issued Wednesday was lifted on Saturday. The notice was due to a sudden loss of pressure in the water system. More information can be found at www.cityofdenton.com and on the City's Facebook page.
In a news release, the city said tests confirmed that no bacteria are present in the drinking water supply.
"The City of Denton public water system has taken the necessary corrective actions to restore the quality of the water distributed by this public water system used for drinking water or human consumption purposes and has provided TCEQ with laboratory test results that indicate that the water no longer requires boiling prior to use as of February 20, 2021," the release read.
"You should flush ice makers, water fountains, etc. prior to using for drinking or cooking," the release continued. "Flushing simply means letting the water run to ensure that no contaminated water remains in your pipes. To flush automatic ice makers, make three batches of ice and discard."
The City of Denton initially said that the low water supply was worsened by people dripping their faucets to prevent their pipes from freezing.
"While freezing pipes may on the surface seem more serious than the need to boil water, please remember that a loss of pressure that triggers a boil water notice is a public health emergency and could have serious impacts to the health of our residents," a city news release read.
Denton County
Monarch Utilities announced a boil water notice for customers in the following neighborhood:
Denton Creek Estates (rescinded)
Duncanville
Residents in Duncanville are being asked to conserve water after mayor Barry Gordon signed an executive order due to the city's water storage capacity dipping below 50% at the start of a new 24-hour period.
The city said the drawdown was caused by water line breaks associated with the freezing weather in North Texas.
The order signed by Gordon requires commercial customers to disable irrigation systems, for hotels to reduce laundry operations and for residents to conserve as much water as possible.
Everman
The City of Everman has rescinded its boil water notice on Saturday.
According to a news release, laboratory tests confirmed that water from the system is safe and well treated for consumption.
Fort Worth
The boil water notice for city of Fort Worth customers in west Fort Worth was lifted Sunday.
The city lifted a boil water order in North Fort Worth and several smaller cities nearby impacting about 300,000 homes and businesses Friday afternoon.
The city on Sunday released a map of confirmed water main breaks. From Feb. 14 at 6:30 a.m., the city has had 521 confirmed main breaks. As of Saturday, 79 breaks remained.
Other customers might be experiencing water shutoffs because of water main breaks and repairs. To date, the city has responded to more than 100 water main breaks and is investigating another 80.
The city said that if their water service was never interrupted, it is not neessary to flush lines.
If you have not been home or your plumbing has been damaged and repaired, it is a good idea to flush faucets after the notice has been lifted, the city said. Flush faucets by running cold water for about two minutes starting with the faucet highest in the home or building and then moving to the lowest.
Use a toothbrush and vinegar to clean the faucet aerator of any particles. Water dispensers and ice makers are connected to water lines and should be flushed. Run the ice maker for an hour and throw out the ice. Clean the ice bin area and change filter cartridges, the city said.
It is not necessary to empty the hot water heater.
Freestone County
Monarch Utilities announced a boil water notice for customers in the Moody Water System.
Greenville
The Greenville city manager's office is urging all residents to boil their water until further notice.
The boil water order is necessary due to low water pressure in the city's utility system, a news release said Thursday.
The City also asked residents to turn off their faucets. In a news release Saturday, Greenville officials said there is no longer a need to "trickle" water now that the temperatures have risen above freezing and projected to stay above freezing.
"We also ask residents to conserve as much water as possible to allow the water system to recover and get the pressures, and supply of water, back to normal," the city news release read.
If you need to contact public works, the city says to call the after hours number at 903-457-2948.
It is not yet clear when the boil water notice will be lifted.
Henderson County
Monarch Utilities announced a boil water notice for customers in the following neighborhoods:
Beachwood Estates and North Trinidad
Carolyn Estates
Cherokee Shores
Highsaw Water
Michael's Cove
Pinnacle Club
Westwood Beach
Hood County
Monarch Utilities announced a boil water notice for customers in the following neighborhoods:
Arrowhead Shores
Comanche Cove (rescinded)
Comanche Harbor/Ports O'Call (rescinded)
Heritage Heights (rescinded)
Montego Bay Estates (rescinded)
Oak Trail Shores (rescinded)
Rancho Brazos (rescinded)
Western Hills Harbor (rescinded)
Johnson County
Johnson County residents are being advised to boil their water before consuming it after the county's special utility district faced low pressure in its distribution system.
The Johnson County Special Utility District said it would notify consumers when the water was again safe to consume.
Water for consumption includes drinking, cooking, ice making, brushing one's teeth and washing one's face. To ensure the elimination of harmful bacteria, bring water to a rolling boil for at least two minutes.
Monarch Utilities announced a boil water notice for customers in the following neighborhoods:
Metroplex Homesteads (rescinded)
Sundance Addition (rescinded)
West Meadow (rescinded)
West Park Village (rescinded)
Keene
The water system in the city of Keene has been shut off due to low water.
In a Saturday update, the city said it would provide portable toilets in front of the fire department at 203 W. Hillcrest Street.
Water will be turned on for one hour Sunday at 12 p.m. and 8 p.m. so consumers can have limited water access. The city will also attempt to temporarily turn on the water at about 6 a.m., 12 p.m. and 8 p.m. for up to one hour while supplies last.
In a statement released Friday, the city said the wells were still producing water.
The city said it was working to replenish the water supply, and water services will be returned as soon as possible.
The city had been in a boil water notice Friday after the Johnson County Special Utility District experienced water loss from frozen and broken pipes as well as increased demand. The city said that it became unable to meet water demands and closed the water system to replenish the distribution system.
Kennedale
Due to unprecedented demand causing a drop in pressure, Kennedale issued a city-wide boil water notice Wednesday.
Kemp
The Kaufman County city of Kemp asked residents to boil water after the city's water treatment plant lost power and reduced water intake.
Lake Worth
The city's boil water notice was lifted Saturday at 2:50 p.m. after all seven water samples collected from sites across the city were found to have met Texas Commission on Environmental Quality requirements.

Lewisville
The city's water system is back to about 80 percent capacity. That means the baths, showers, washing machines, and dishwashers are open for business!
The city of Lewisville's water system is back to about 80 percent capacity.
According to a news release, Lewisville residents can now use their baths, showers, washing machines, and dishwashers.
In order to avoid having every shower in town turn on at the same time, the City of Lewisville asked that people whose home address is an odd number (ends in a 1, 3, 5, 7, or 9) begin normal water use at noon, but people whose home address is an even number (ends in a 0, 2, 4, 6, or 8) wait until 3 p.m. Saturday to use their showers.
The City of Lewisville asked people in a certain area to boil their water a day after urging residents to conserve the water they have.
In a news release, the city said Thursday that the boil-water notice was issued after a sudden loss of pressure at locations within a service area on Wednesday.
The boil water order only applies to people in Denton County Fresh Water Supply District Number 1, which is highlighted in the map below. Interactive Map - search by address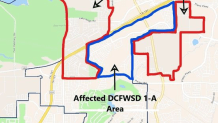 People who live outside the highlighted area above do not need to boil their water, but all Lewisville residents are urged to continue conserving water. No excess or unnecessary water should be used, especially during peak windows of 6 a.m. to 8 a.m. and 5 p.m. to 9 p.m.
You should continue to trickle water out of faucets to reduce the chance of additional frozen pipes overnight. The trickled water can be captured in a bowl or bottle for other uses, but customers should not fill tubs or large buckets if they have not already done so.
Daily use of water has been more than twice the normal level for wintertime, roughly comparable to summer use, the release said. Much of that increased use is due to private services lines at residences and businesses that have frozen and burst, causing uncontrolled leaks that can be extremely large.
More than 160 locations were identified and shut off on Wednesday, but there are many others that have not yet been detected and are placing a severe strain on the water system.
The city said two other service areas in the Lewisville water system have reduced volumes of water available. While pressure has been stable for now, it could worsen if there are additional pipe breaks or increased use by firefighters responding to emergencies.
The city said the boil water notice will be in effect for at least 72 hours.
Anyone who notices leaks at businesses or homes is urged to contact 214-673-9809 or 214-673-9129.
The City of Lewisville will provide free water on a first-come basis Friday and Saturday through a public watering station at Gene Carey Animal Shelter and Adoption Center, 995 E.Valley Ridge Blvd. Residents can fill their own containers with clean water suitable for all uses, including drinking or bathing. The station will be open 1 p.m. to 4 p.m. on Friday and 10 a.m. to 4 p.m. Saturday.
Mesquite
On Wednesday, the city of Mesquite is advising those in the north and central part of the city boil their water until further notice after a disruption caused the NTMWD to take the Barnes Bridge Water Pump Station offline. The impacted area is for people north and west of Pioneer Road to the Dallas city limit. Click here for map of boil water notice area.
North Richland Hills
On Friday afternoon, the city-wide Mandatory Water Conservation & Boil Advisory was lifted in North Richland Hills.
However, the city asks residents to continue to conserve water through the weekend.
If you see broken water lines in your neighborhood, please report immediately to 817-427-6440.
Parker County
Monarch Utilities announced a boil water notice for customers in the following neighborhoods:
Brazos Ridge Estates (rescinded)
Cedar Ridge (formerly Ruby Ridge) (rescinded)
Western Lake Estates (rescinded)
Pelican Bay
A boil water notice for Pelican Bay was rescinded on Tuesday afternoon.

Water distribution pressure in Pelican Bay dropped Tuesday causing the city to notify consumers that they should boil their water before use. The city said the pressure dropped below 20 pounds per square inch and it would notify consumers when it was safe to resume regular use.
Princeton
The Collin County city of Princeton has rescinded a boil water notice after TECQ tests show the water is safe for human consumption.
Providence Village
Providence Village issued a boil water notice on Feb. 16 due to reduced pressure in the lines. If you have questions concerning the notice you may contact Inframark, the operator for Town of Providence Village, at our 24-hour Customer Service Line 281-398-8211.
Rice
A boil water notice in effect for all customers of the Rice Water Supply in Navarro and Ellis Counties.
According to a news release, residents should boil their water until further notice.
The Rice Water Supply is working to replace freeze damaged equipment in the system and is operating solely off the system volume after losing feeds from both supplies.
Rice residents should only use essential water, the Rice Water Supply said.
Richland Hills
The entire city of Richland Hills was placed under a boil water notice Tuesday due to the rolling power outages and the city's inability to treat and move water to consumers, the city said
The public water service will notify residents when it is again safe to consume tap water.
Southlake
The city of Southlake remains under a boil water notice until further notice. Fort Worth, Southlake's supplier, rescinded a previous notice but said Southlake is required to complete it's own testing of water before the notice can be lifted.
Tarrant County
People in western portions of Fort Worth were ordered Thursday to boil all drinking water due to water pressure problems stemming from water main breaks, a news release said.
The notice impacts residents from Montgomery Street westward, including three cities in the affected area that buy drinking water from Fort Worth – Aledo, White Settlement and Westover Hills.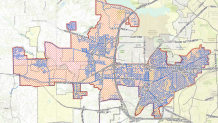 Meanwhile, an earlier boil-water notice continues in North Fort Worth, where more than 200,000 residents have been urged to boil their water prior to consumption after a power outage at a water treatment plant earlier this week.
A city news release on Tuesday said the issue affects 210,000 people in North Fort Worth. Cities that buy water from the plant -- Haslet, Keller, Lake Worth, Northlake, Roanoke, Saginaw, Southlake and Westlake are being told to boil their water as well.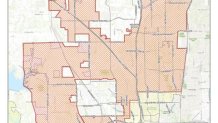 Anyone with questions can contact the water utility at 817-392-4477 or email MyWaterAccount@FortWorthTexas.gov.
Distribution sites have been set up to help residents in north Fort Worth who need water. Click here for information.
Monarch Utilities announced a boil water notice for customers in the following neighborhoods:
Benbrook Hills (rescinded)
Silver Saddle Acres (rescinded)
Here's a list of locations where you can go to pick up free bottled water.
Trophy Club
People in Trophy Club do not need to boil their water, the city said Thursday. In a news release, the city said that water brought in from Fort Worth receives an additional treatment, and Trophy Club's equipment has not been affected by power outages.
University Park
University Park has announced a boil water notice for all University Park customers.
The notice is due to several water main breaks that the city experienced while already struggling to maintain system water levels. While University Park customers can still use tap water, they are advised to boil before use.
Van Zandt County
Monarch Utilities announced a boil water notice for customers in the following neighborhood:
Wise County
Monarch Utilities announced a boil water notice for customers in the following neighborhood:
Aurora Vista (rescinded)
Chisholm Hills Estates (rescinded)
Coyote Ridge Addition (rescinded)
Sky View Ranch Estates (rescinded)
Windmill Trail (rescinded)