What to Know
Winter Storm Warning issued through 8 p.m. Wednesday
Another round of snow fell in North Texas Tuesday night into Wednesday morning.
Hazardous conditions will persist for several days given the expected prolonged duration of extremely cold temperatures.
A Winter Storm Warning remains in effect for parts of North Texas through 8 p.m. Wednesday as additional snow, sleet and freezing rain further blankets the region.
The National Weather Service shortened the span of the Winter Storm Warning early Wednesday morning to end at 8 p.m. Wednesday instead of Thursday morning, giving North Texans some much-needed hope for an end to a historic and dangerous weather pattern.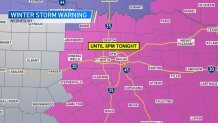 Temperatures remained in the teens and 20s Tuesday night into Wednesday morning while a second overnight winter storm dropped snow amounts as high as 6 inches near the Red River and 1 to 3 inches of snow in the DFW metro area, NBC 5 Meteorologist Grant Johnston said.
Roads will remain slick and hazardous and conditions deteriorate through the morning.
Temperatures will remain steady in the teen to low 20s Wednesday morning. They will slowly climb into the upper 20s Wednesday afternoon.
A Wind Chill Warning expired at noon Tuesday as wind chill values reached 10 to 20 degrees below zero for the second straight day. It marked the first time such a warning had been issued in North Texas.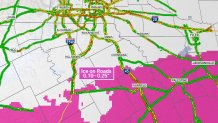 Dallas-Fort Worth International Airport recorded a record low temperature of -2 degrees on Tuesday, NBC 5 Meteorologist Grant Johnston said. It was the coldest temperature recorded in North Texas since January of 1949.
The weather warnings come on the heels of a major Winter Storm that affected the entire state Sunday. Gov. Greg Abbott (R) issued a disaster declaration Friday for all 254 Texas counties. He ordered the Texas State Operations Center to expand to 24-hour operations through the end of next week. Abbott delivered an update on the evolving situation Saturday afternoon.
In addition to the statewide disaster declaration, the White House on Sunday approved a Federal Emergency Declaration for Texas.
Snow totals from Sunday and early Monday ranged from 3 to 5 inches across DFW. The last time Dallas-Fort Worth International Airport had an inch of snow was in March 2015.
In some cities west of Dallas-Fort Worth, like Jacksboro and Mineral Wells, as many as 6 inches of snow were recorded.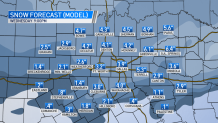 Strong winds led to blowing and drifting snow, reducing visibility to less than one mile at times.
Travel will be dangerous. Hazardous conditions will persist for several days given the expected prolonged duration of extremely cold temperatures. This is a dangerous weather pattern because of the intensity of the cold, and its duration.
Preparations should be in place now to prevent pipes from freezing as temperatures remain below freezing. Make necessary changes to travel plans. Check on elderly neighbors and relatives and make sure they are prepared for several days of inclement weather.
Also, take care of your pets and bring them inside with you. The cold, harsh weather conditions can be deadly to animals and those that live outdoors should have weatherproof shelter.
Stay weather aware and check the latest forecast frequently from the NBC 5 Weather Experts.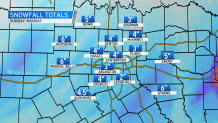 Flight Cancellations
Flights continue to be impacted by winter weather challenges.
Flight tracking website Flight Aware reported 970 cancellations Wednesday at Dallas-Fort Worth International Airport. At Love Field, Flight Aware reported 84 cancellations since midnight Wednesday.
Passengers should check with their airline before heading to the airport to ensure their flight is not canceled. At Love Field, passengers who are stuck can request cots, blankets and pillows. Sleeping arrangements are also being made for airport staff who are staying overnight.
Conserving Energy
Texans are being encouraged to take steps to conserve energy as much as possible in an effort to avoid outages due to demand. The Electric Reliability Council of Texas, or ERCOT, which oversees the electric grid in the state, asked all Texans to limit and reduce their electricity use as demand outpaces supply.
Keeping thermostats at 68 degrees or below, closing shades and blinds to keep heat in, unplugging electronic devices not in use, and avoiding the use of large appliances -- a dishwasher, washer or dryer -- in the morning or evening are some recommendations. Read more on conservation during extreme cold here.
Atmos Energy is also urging Texans to reduce their energy consumption as freezing temperatures continue.
Transit
Dallas Area Rapid Transit is suspending its light rail service and limiting its bus service. Light rail service stopped at 9 p.m. Sunday and will be suspended until 11:59 p.m. Wednesday.
Bus routes will operate on a Saturday schedule with limited service added on local routes 63 and 362.
More information on DART's Severe Winter Weather Operating Plans can be found at https://www.dart.org/winterweather.
Trinity Metro and Denton County Transportation Authority are also make changes to their services.
Crews are out treating the roadways around Dallas-Fort Worth, but ask that people avoid driving if at all possible. The Texas Department of Transportation closed its TEXpress-managed toll lanes to focus on main lanes of travel.
COVID-19 Vaccination Sites
Several North Texas COVID-19 vaccination and testing sites have closed in anticipation of winter weather and hazardous driving conditions.
School Closures
A comprehensive list of all districts with closings or delayed starts can be found here.