An upcoming survey is revealing the biggest health issues affecting children across North Texas.
And no, COVID-19 is not at the top of that list. Mental health is a leading concern.
The Center for Children's Health – led by Cook Children's Health Care System in Fort Worth – will be detailing their findings in a free virtual health summit Tuesday morning, which families can watch online. The virtual summit runs from 9:30 a.m. to 11 a.m.
Registration is available online.
The 2021 Community Health Needs Assessment (CHNA) Parent Survey includes information gathered from more than 5,000 families in Collin, Denton, Grayson, Hood, Johnson, Parker, Tarrant and Wise counties.
The survey has been conducted every three years since 2009, with a goal to help community leaders and organizations identify children's health priorities and implement solutions.
"I think it's safe to say that the COVID-19 pandemic has added considerable stress for families," said Becki Hale, director of Child Health Evaluation Center for Cook Children's. "Our survey results show that children's mental health is a top concern."
Local
The latest news from around North Texas.
Every survey, Hale said mental health has continued to become a leading issue among both parents and their children. But much of the data gathered over the past year points to the pandemic itself as a likely cause.
"I think for the most part, we were expecting it because we've all been living through this pandemic. It's information that some of our program staff have been experiencing with families over the last 18 months at the center," Hale said. "Our community partners have shared many of their concerns around the same things."
Top findings include:
Half of all children ages 6-17 living in our 8-county service area (867,640) have a caregiver who is concerned that the COVID-19 pandemic will have a negative impact on both their education and mental health, respectively.
70% of children ages 3-5 are ready for school according to their caregiver, which is slightly lower than that national percentage of 75%.
51% of children ages 6-17 have a caregiver who is coping 'very well' with daily parenting demands, which is lower than the national percentage of 61%.
Caregivers of children ages 6-17 report that 19% of children have been told they have anxiety and 10% have been told they have depression by a health care provider. This is compared to the national percentages of 13% and 6% respectively.
"It was hard to see and hear in the data but also very validating and really just helps us know that we have more work to do," said Hale. "We need to be creative and find different ways to help meet those needs of those families within our community."
Many children in North Texas were also reported to be lacking access to necessary care:
137,000 children weren't able to get needed medical care.
Over 180,000 weren't able to get needed dental care.
63,120 children weren't able to get needed mental health care.
"Parents shared that this was mostly due to the COVID-19 pandemic but some other reasons they gave us because perhaps insurance does not cover some of the needed services or the services weren't available in the families particular area," said Hale.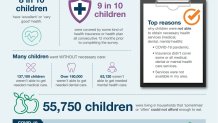 Looking ahead, Hale said the community will need to adopt a stronger focus on mental health, work on increasing access to care, and prioritize creating stronger support networks for families. That's something community organizations are going to be working on in the coming months.
"Especially for those populations that we know have more challenges to receiving healthcare that they need," said Hale. "I think specifically we should continue supporting our existing community partnerships that we have and explore new and innovative approaches for increasing access for children and parents -- like nutritious meals, physical activity, medical homes, insurance coverage, timely dental care, and information about injury prevention."
Tuesday's virtual health summit is just part one of presentations by health leaders at Cook Children's.
Focus groups were also held with parents and 20 interviews were conducted with community leaders to dig into the 'why' behind the data. More of that information will be presented in part two of the health summit being planned for February.
"I think that overarching message is that it takes all of us, a strong community. And thankfully I think this area of North Texas is so well known for coming together and supporting one another with all of the different organizations that we have available to support children and families," Hale said.