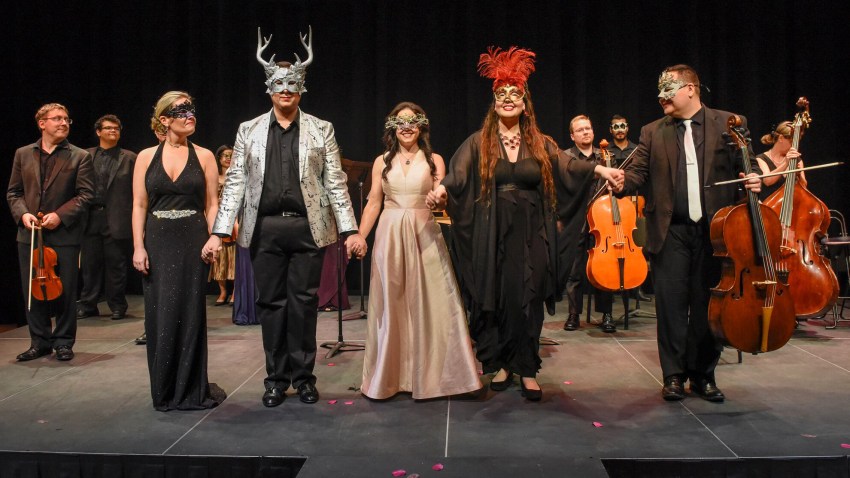 There's a new opera company in town. Established in 2017, the American Baroque Opera Company will present their first fully staged opera, George Frideric Handel's Alcina, March 2-4 at Arts Mission Oak Cliff in Dallas.
"It's been my dream for about ten years," Eric Smith, the company's Artistic Director, said. "Ten years ago, I don't think the area would have sustained a Baroque opera company. I don't think we had all of the talent that we have now. The arts scene has grown so much in Dallas and now is the right time."
Smith decided to devote his career to Baroque opera while studying at University of North Texas, but he was discouraged when a professor told him he needed to move to Europe to pursue the career of his dreams.
Smith chose to build a career in Dallas with a goal of offering a different kind of opera experience: intimate productions of operas written between 1600 to 1750 by famous composers such as Handel, Vivaldi and Purcell as well as lesser-known composers.
"Baroque opera is a lot more raw," Smith said."When you go to a big opera house, you bring your binoculars and you can still barely see. When you go to an intimate Baroque opera like this, you see the facial expressions, you feel the music because it done right in front of you. It's a much more immersive experience."
Smith benefits from having a large group of singers and instrumentalists with knowledge of Baroque performing traditions develop in the DFW area.
"Now that the early music movement has grown so much, that pool has gotten bigger which is part of the reason more people are doing period operas," Smith said.
The company uses a period instrument orchestra to get the distinctive sound of the Baroque period.
"If you're listening to a Baroque period instrument, it gets you closer to the rawness, the vibrancy, the liveliness of it. People are so amazed when they hear it for the first time," Hillary Coyle, the company's Executive Director, said.
The stories of Baroque opera are often based on Greek or Roman mythology, highlighted with dramatic musical embellishments and unexpected harmonies. The music might be complex, but the themes are universal.
"To me, a lot of Baroque opera is actually pretty simple. It's still totally relatable stuff as far as love, betrayal, cheating, having affairs and comedy. There's a lot of funny opera," Miguel Cantú IV, the company's General Manager, said.
For the drama of Baroque operas to connect with an audience, the pieces demand smaller spaces. "The operas were written for small sets, the stages were very small and so the drama happens very close. It's very up close and personal," Smith said.
Being part of the AT&T Performing Arts Center's the Elevator Project in September helped them find an audience interested in an intimate performance experience.
"The Elevator Project was such an amazing opportunity to do that in this perfect space, this modern, clean, gorgeous space for us to sing authentically and play beautiful music," Coyle said.
The Elevator Project concerts provoked curiosity. "After Baroque performances – instrumental and operatic – I would say a good third to half of the people get up and make their way to the stage to look at the instruments, talk to the instrumentalists. If a cast member is there, they are like a magnet," Cantú said, recalling the atmosphere of the company's Elevator Project concerts. "They helped create the space where there was no wall between the audience and the performers."
Selecting Alcina, Smith's favorite Handel opera, as the company's first fully staged production was an easy decision. "I think with Handel, he was a composer second and a dramatist first," Smith said. "I think the story is relatable. It is all about love lost and gained and temptation and betrayal and how it all comes out in the wash."
Arts Mission Oak Cliff, a 125-seat former church, fits Baroque opera acoustically and aesthetically. "It's gorgeous. All wood, stained glass windows and vaulted ceilings and it's not what we thought we could get in Dallas," Smith said. "It plays to the intimate nature of what we're trying to do."
As a new company, the small staff is working to get the word out about the performance and raise money to cover the cost of producing opera. "We're such a small staff, working for pennies because we believe in this," Smith said.
The company believes Dallas will support its ambition to become the premier Baroque opera company in the nation.
"We have the talent and we have the audience who want it and I think people in Dallas are trendsetters," Smith said. "People in Dallas will help us create this opera company and then share it with the rest of the country."
MORE: BaroqueOpera.org

Copyright FREEL - NBC Local Media