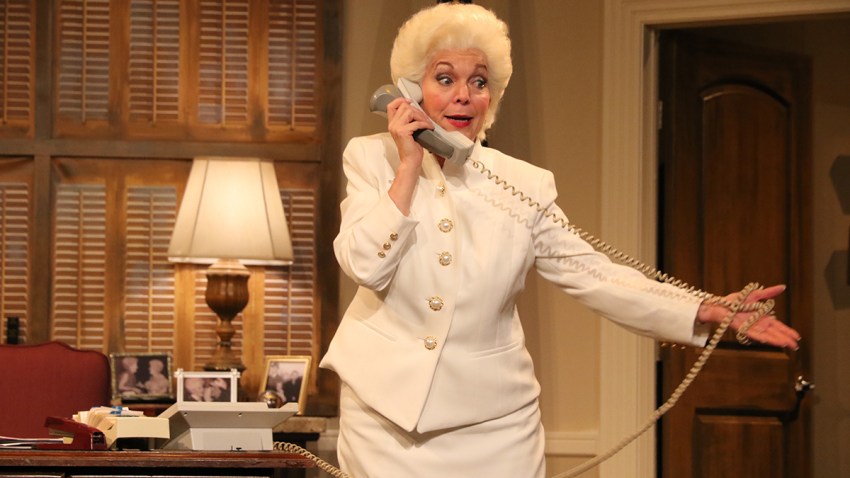 As Linda Leonard prepares to play Ann Richards in Stage West's return engagement of Ann at Irving Arts Center, she knows the former Democratic governor is still deep in the heart of Texans.
"I'm enlightened and pleased and proud of the fact that she's still a legacy. She still has an impact on our society. She still touches people," Leonard said.
One of the people Richards impacted was Holland Taylor, the Emmy Award-winning actor known for the television series Two and A Half Men. Taylor met Richards in New York City in 2004 through a mutual friend, columnist Liz Smith.
When Richards died in 2006, Taylor channeled her grief into researching every aspect of Richards' life and crafting a two-hour one-woman show.
After playing in several Texas cities, Chicago and Washington DC, the show opened on Broadway on March 7, 2013 with Taylor playing the title role.
The show has many political fans including Gabby Giffords, Kristen Gillibrand, Janet Napolitano, Mario Cuomo, Henry Cisneros, and Bill and Hillary Clinton.
Dana Schultes, Stage West's Executive Producer, approached Taylor about the gaining the rights to produce the show while it was still playing at the Zach Theatre in Austin. Taylor agreed to allow the Fort Worth theater to produce the show when she learned Jerry Russell, Stage West's late founder, is the father of Wendy Davis, the former state senator and gubernatorial candidate. Taylor actively advised the theater throughout the production process.
Leonard is only the second person to play the role. She has countless emails and notes from phone discussions with Taylor.
"A great thing happened when we did the photo call. She emailed me and she said, 'The hair is perfect, the costume is perfect, the shoes were all wrong. Ann never wore higher than a quarter inch heel because she was only 5'1 with her hair. I'm going to send you a picture of the shoes you need to get.' In fact, she did. She sent me a picture of the shoes that Ann wore her first day as governor and those are the shoes I'm wearing in the show. Those were the details that were wonderful to get from Holland that are no where in the script," Leonard said.
Taylor also elaborated on Richards' relationships with the people in her life and those intimate details helped Leonard create an authentic portrait of the governor.
"The piece is not about politics. It's about Ann Richards, the woman, and it is about her focus on others, her absolute belief in the positive in life, her strength and her truth," Leonard said.
Stage West first produced Ann in October 2016, closing two days before the presidential election. Leonard met several audience members who knew Richards personally and they talked about how Richards inspired them, gave them courage and empowered them. Leonard said the audience responded to her as if they were in church and called the audience her other character.
"She's still a part of why they are inspired to do what they do," Leonard said. "When I call upon the audience to participate in government, they responded to me."
Positive reaction to the show and sold-out performances in the fall spurred Stage West to plan this second engagement at Dupree Theatre at the Irving Arts Center. The Dupree Theatre seats twice as many people as Stage West, but Leonard is confident she can create a significant bond with the audience. Leonard is anticipating today's politics will influence the audience.
"With our current political climate, this entire piece is going to speak very differently to people now than it did six months ago," Leonard said.
Like Hamilton: An American Musical, The Originalist, Red Hot Patriot: The Kick Ass Wit of Molly Ivins, and The Life and Times of Barbara Jordan, Ann focuses on people important in this nation's political world. Leonard believes theater is a safe venue for people of all political stripes to learn about each other's perspectives.
"I think that art allows us to peek into different worlds. I feel art encourages us to be tolerant and to look at a point of view. It allows us to think what we think, but it also gives us an opportunity to change," Leonard said.
The show reflects on the qualities of leadership, specifically Richards' ability to inspire with her common touch.
"Leaders are just like everyone else. Leaders are human. Leaders do their absolute best to make the right decisions. If they are well-intended and if their focus is on others, then they will work as hard as they can to make the best decision for everyone," Leonard said. "A leader is someone who not only leads, but listens and follows."
Ann is now playing through July 8.
MORE: StageWest.org

CLICK HERE To read The Dallas Morning News review - 'Ann' a welcome dose of political optimism in a mud-slinging election season

Kimberly Richard is a North Texan with a passion for the arts. She's worked with Theatre Three, Inc. and interned for the English National Opera and Royal Shakespeare Company. She graduated from Austin College and currently lives in Garland with her very pampered cocker spaniel, Tessa.
Copyright FREEL - NBC Local Media