Big, fluffy snowflakes fell Sunday across parts of North Texas, bringing the first significant snowfall to the area in five years.
The snow came from an upper-level storm system that swung eastward across the state. The morning began with light rain Sunday that soon included a few snowflakes. That transitioned to large, wet snowflakes across much of the area.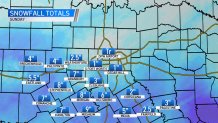 Snowfall in West Texas and the Panhandle was heavier as the storm moved across the state.
If you get snow and have photos or videos you want to share, upload them here or email them to iSee@nbcdfw.com. We may use them on-air and online!
The good news is that temperatures remained above freezing, so most accumulation occurred on grass, car tops, and picnic tables. While roads became slushy in some areas, most streets across DFW were only wet.
Accumulations ranged from 1 inch or less in Dallas-Fort Worth all the way up to 8 inches in Stephenville. Some school districts, especially in areas south and west of DFW, closed or delayed the start of school Monday.
The snow ended Sunday night, and Monday will be dry, but cloudy and cold. With temperatures starting the day near freezing, some slush could freeze on area bridges early Monday morning.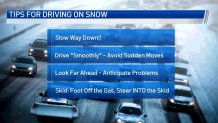 NBC 5 Weather Experts will keep you up to date on the weather throughout the day, stay tuned and download the NBC DFW App.