S Band Radar & Maps | Forecast | Weather Alerts
Traffic | Send Us a Photo/Video | Live Cams
A wild fire in southwest Colorado near the town of Durango has burned more than 27,000 acres since June 1. The fire, know as the 416 fire, has been burning north of Durango. More than 1,000 firefighters have been working to get the fire under control.
Southwest Colorado is in the midst of a severe drought and fire conditions are at historically dangerous levels.
However there is hope for a change in the weather. Hurricane Bud is in the eastern Pacific Ocean, moving north toward the Gulf of California.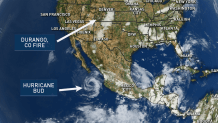 The storm will weaken before it reaches land, but its moisture will overspread parts of the Southwest. There is hope that over the weekend the remaining moisture will bring much needed rainfall to the area, helping to douse the fire.
Get the latest forecast information from NBC 5's team of Weather Experts here.
Weather Connection
Connecting you with your forecast and all the things that make North Texas weather unique.
---
---