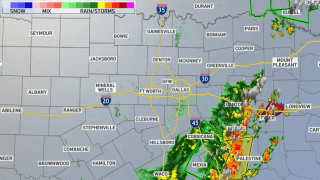 What to Know
Loud, heavy storms dropped several inches of rain Monday
Flooding is the main concerns from the storms; Flood Warnings remain in effect
After the rain clears out, the heat index could near 100 Wednesday
Another round of thunderstorms rolled through North Texas Tuesday morning, but they were not as heavy or widespread as what occurred Monday.
Given the saturated soil, any additional heavy rain could lead to renewed flooding.
Heavy rain fell across parts of North Texas Monday and many areas received over an inch, while some spots had over 3 inches. Some of the heaviest rain fell in Collin County, where Plano recorded nearly 4 inches. Frisco and McKinney had around 2 1/2 inches.
After Tuesday, the weather pattern will be changing to a drier pattern with afternoon temperatures in the low 90s and a heat index near 100 Wednesday through the weekend.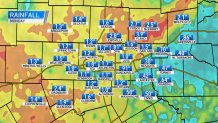 Active Flood Warnings
East Fork Trinity River, McKinney, until 12:25 June 8
Brazos River, near Palo Pinto, until 3 p.m. June 8
South Fork Sabine River, near Quinlan, until 7 a.m. June 9
Navasota River, above Groesbeck, until 12:01 p.m. June 9
Cowleech Fork Sabine River, near Greenville, until 11:05 p.m. June 9
Trinity River, Dallas, until 2 a.m. June 10
Leon River, DeLeon, until 7 p.m. June 10
Trinity River, Trinidad, until further notice
Trinity River, near Long Lake, until further notice
Brazos River, near Dennis, until further notice
See all current weather alerts here
Weather Connection
Connecting you with your forecast and all the things that make North Texas weather unique.
The NWS describes areal flooding as "flooding that develops more gradually, usually from prolonged and persistent moderate to heavy rainfall. This results in a gradual ponding or buildup of water in low-lying, flood-prone areas, as well as small creeks and streams. The flooding normally occurs more than six hours after the rainfall begins, and may cover a large area. However, even though this type of flooding develops more slowly than flash flooding, it can still be a threat to life and property."
People are urged to avoid flood-prone areas and flooded roadways.
Remember, never drive through high water. Turn Around, Don't Drown.
North Texans should expect flooding of small creeks and streams, urban areas, highways, streets and underpasses as well as other poor drainage and low-lying areas. Since the ground is already so saturated it will not take much for runoff to occur.
CONTINUING WEATHER COVERAGE
Stay up to date with the latest weather forecast from NBC 5's team of Weather Experts by clicking here or by watching the video below.