Live video from the NBC 5 Weather Center will appear in the player above. From time to time we may switch the video feed to live weather coverage.
Weather Alerts
Tornado Watches and Severe Thunderstorm Warnings affected all of North Texas at various times of the day Saturday. Dallas-Fort Worth was under a Tornado Watch until 5 p.m., while some of North Texas' easternmost counties were affected until 8 p.m.
The National Weather Service briefly issued a Severe Thunderstorm Warning for Tarrant and Dallas counties until 8:30 p.m., but canceled it shortly before 8 p.m. when the storm lost its momentum.

Click here for a full listing of active weather alerts in North Texas.
Ground stops were in effect at both Dallas-Fort Worth International Airport and Dallas Love Field for much of the afternoon Saturday as storms moved through North Texas.
At about 2:40 p.m., DFW Airport reported departure delays averaging about 2 hours and 37 minutes, according to the Federal Aviation Administration. Meanwhile, Dallas Love Field reported average delays of about 2 hours.
The Latest
North Texas braced for the possibility of tornadoes Saturday as a line of severe storms brought torrential rain, hail, strong winds and lightning to the region.
Parts of North Texas received more than 3 inches of rain Saturday as a slow-moving storm system took several hours to move across the area.
Rain totals at Dallas-Fort Worth International Airport reached 2.18 inches, while Richardson saw 3.66 and Possum Kingdom Lake received 4.07 inches of rain.
A brief Tornado Warning was issued at about 3:30 p.m. for Ellis and Navarro counties. It was allowed to expire about 15 minutes later. Early reports indicated tree damage in the area around Interstate 45, just south of U.S. Highway 287.
Shortly after, another tornadic storm prompted warnings for Kaufman and Van Zandt Counties. The system raced to the east at 50 mph along Interstate 20 towards Canton. The S-Band Radar detected wind velocities at more than 60 mph in this storm.
The circulation on this tornado-warned storm is crossing I-45 between Ennis and Rice, moving rapidly NE.
No tornado has been confirmed but spotters have seen a rotating wall cloud.
Live radar at: https://t.co/hLQg8PBYyk#dfwwx#NBCDFWWeatherpic.twitter.com/CK9TnWH5Cz

— David Finfrock (@DavidFinfrock) May 18, 2019
The storm system developed in counties west of the DFW Metroplex at about mid-morning and gained strength as it marched eastward into the afternoon.
As temperatures warmed, some storms turned severe. Pictures and videos of hail were shared with iSee@nbcdfw.com from cities across the area.
Lake Lewisville looks like a scary ocean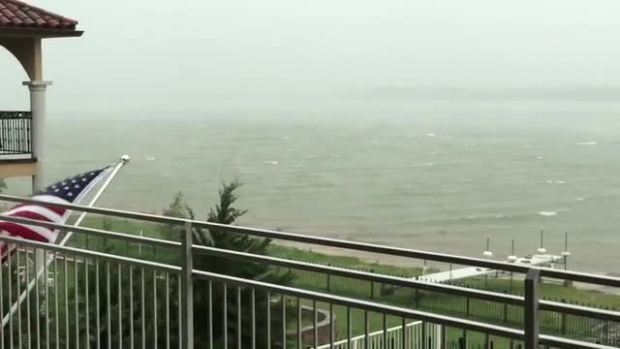 As the storms continued into the afternoon, parts of Dallas County experienced high water as rain pounded the area.
Sunshine returns Sunday with a high in the upper 80s. More storms, however, will be looming into early next week, particularly late Monday into Tuesday morning.
Power Outages
Oncor reported thousands of its customers were without electricity as storms rolled through the North Texas region. Most outages were restored, but as of 11:10 p.m. Saturday, there were still several thousand people without electricity in several counties:
• Dallas: 8,358
• Collin: 1,370
• Ellis: 627
• Tarrant: 1,276
• Denton: 65
• Hunt: 520
• Kaufman: 314
• Van Zandt: 272
Live Video
S-Band Radar:
Latest Video Forecast
Read the latest forecast information from NBC 5's team of Weather Experts here.
Before the Storm
Stay Connected. Download the NBC DFW App
Charge your phones and tablets so that if you lose power you can still watch live weather coverage in the App.
Weather Safety