People in Canton are surveying the damage left behind after a severe storm moved across the city, damaging several buildings.
At the intersection of Texas Highways 19 and 64, people in a Valero gas station ran for cover.
Drone Video Captures Canton Tornado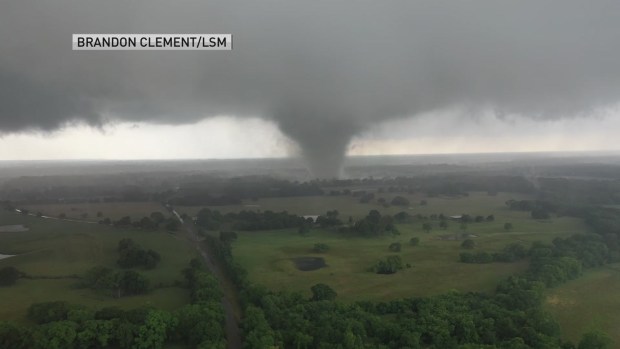 "We saw it spiral up right across the road. I told everybody, 'Let' go!' said manager Crystal Herrera. "We went to the bathroom. We hunkered down."
Texas Thunder Truck Captures Tornado on Camera
Seven people in all were in the bathroom as the twister dropped down right on top of them.
"We heard the building just pull away from itself," Herrera said. "Something I've never been through."
Strong Storm Damages Gas Station in Canton
Her daughter was with her.
"It was scary," Abbie Herrera said.
Across the street, others took shelter in a store.
"By the time you saw it, if you didn't already have a place you could be very soon, you wasn't going to make it," said Jerry Lane. "It was really moving. Really moving."
Damage in Downtown Canton After Severe Storms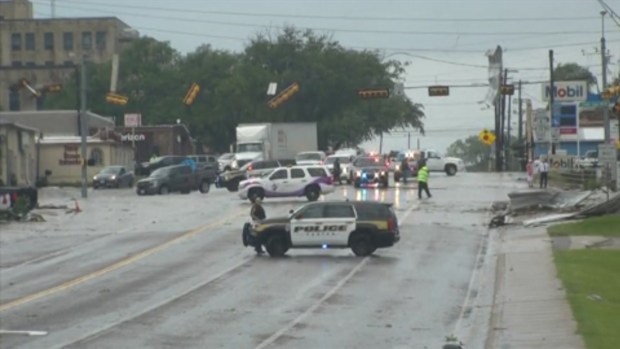 The tornado ripped parts of the roof and outside walls off the gas station.
But everyone hunkered down in that bathroom emerged without a scratch.
"It just went through and it was over and that was it," Abbie Herrera said.
Neighbors Jump in to Help Clean-Up After Canton Storms
Not far from the gas station, homeowners had already started cleaning up after the storm passed.
"My son came out and my nephew and said 'Well aint Linda your car is a pancake,'" said resident Linda Myers.
Just a few blocks away, a tree landed in the middle of a newly renovated bathroom.
"The only thing I can say is that God performed a miracle because we're safe," said storm victim Sadie Berry.
Over at the UT Health Rehabilation Center, the strong winds basically peeled the roof off the building.
With the continuious rain only adding insult to injury, workers say they will be there Thursday morning, trying to save whatever they can.
Latest Video Forecast
Read the latest forecast information from NBC 5's team of Weather Experts here.
Before the Storm
Stay Connected. Download the NBC DFW App
Charge your phones and tablets so that if you lose power you can still watch live weather coverage in the App.
Weather Safety