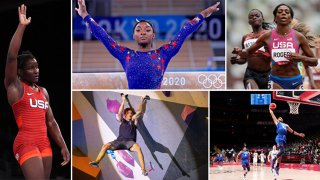 Texans took center stage on Tuesday. Spring's Simone Biles returns to the spotlight on the balance beam and brings home a medal, Katy native Tamyra Mensah-Stock captured gold in wrestling and Houston's Raevyn Rogers comes from behind for an 800m medal.
The University of Texas' Gabby Thomas brings home a medal in the women's 200m final, while fellow Longhorn Tara Davis did not medal in the long jump. Wylie's Melissa Gonzalez, who competes for Colombia, did not qualify for the final in the women's 400m hurdles.
USA men's basketball battles Spain in the quarterfinals after Dallas Mavericks star Luka Doncic led Slovenia over Germany. Plus, sport climbing makes its Olympic debut.
Simone Biles wins bronze in triumphant return to Olympic stage
Simone Biles made her return to Olympic gymnastics -- and the Olympic podium -- in Tuesday's balance beam final.
Biles was the third gymnast on the beam and posted a score of 14.000, finishing with a bronze medal.
The American superstar returned to the gymnasium to compete in Tuesday's balance beam final after missing the previous four events. Biles pulled out of the individual all-around, vault, uneven bars and floor exercise after experiencing the "twisties" on a vault in the team final last Tuesday.
Biles also won bronze on the balance beam at the 2016 Rio Games. She has seven Olympic medals in her storied career, including silver from the team competition in Tokyo. She tied Shannon Miller's American record for most Olympic gymnastics medals with Tuesday's result.
Biles left the team final last week and had since withdrawn from finals in the individual all-around, vault and floor exercise. Team USA has stepped up without Biles -- Lee won gold in the individual all-around, MyKayla Skinner earned a silver medal in vault and Jade Carey brought home another gold in the floor exercise.
Watch Biles and Lee perform online.
Women's 800m and 200m finals headline track and field events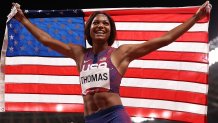 Track and field events heat up at the Tokyo Olympics as some big names compete in event finals.
American Rai Benjamin won silver in the record-breaking men's 400m hurdles, posting a time of 46.17.
Karsten Warholm of Norway won gold -- breaking his own world record -- with a time of 45.94, followed by Alison dos Santos of Brazil who claimed bronze. dos Santos also exceeded the previous world record.
University of Texas long jumper Tara Davis did not medal.
Also in the first session Monday night, American track star Noah Lyles, a favorite to medal in the men's 200m, made his Tokyo Olympics debut and Allyson Felix moved on in her first race in the women's 400m.
Tuesday morning, Jamaican Elaine Thompson-Hera added to her medal haul with the gold in the women's 200m. Shelly-Ann Fraser-Pryce earned silver and the University of Texas at Austin's Gabby Thomas is bringing home bronze.
Team USA brings home gold and bronze in the women's 800m. Athing Mu, 19, broke a U.S. record and brings home the gold, Houston's Raevyn Rogers, came from behind to take bronze with a personal best. Great Britain's Keely Hodgkinson broke her nation's record to bring home silver.
Poland takes gold and bronze in women's hammer throw. Anita Wlodarczyk won gold, China's Zheng Wang took silver and Malwina Kopron good bronze.
American Chris Nilsen is bringing home the silver in men's pole vault. Sweden's Armand Duplantis takes gold and Brazil's Thiago Braz took bronze.
Watch on NBC in prime time. 
Texas wrestler Tamyra Mensah-Stock bring home gold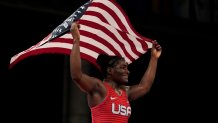 Reigning world champion Tamyra Mensah-Stock from Katy, Texas, took the gold in the 69kg women's freestyle final with a score of 4-1.
Mensah-Stock handily took down three opponents to get to the final. She dominated her first two opponents scoring 10-0 shutouts against Sara Dosho of Japan and Zhou Feng of China. The 28-year-old then topped Alla Cherkasova of Ukraine with a score of 10-4 to secure her spot in the championship.
Nigeria's Blessing Oborududu took silver, Cherkasova and Kryzygstan's Meerim Zhumanazarova each won bronze.
Watch the gold medal final Tuesday afternoon on USA.
U.S. men's basketball beats Spain to advance to semifinals
The U.S. men's basketball team defeated Spain 95-81 to advance to the semifinals.
Kevin Durant paved the way with 29 points to lead the U.S. to the quarterfinal win.
Spain came out as the better team in the first half, led by Ricky Rubio, who ended with 38 points. But the U.S. was able to go into the break with the score tied at 43.
Durant scored 13 points in the third quarter, but an 11-2 run by Spain to end the quarter made it just a 69-63 lead for the Americans.
The U.S. had a strong fourth quarter, outscoring Spain 26-18 to hold onto the victory.
Team USA now awaits the winner of Australia-Argentina.
Watch on USA Network, or stream online.
Meanwhile, Luka Doncic and Slovenia need one win for a medal in their Olympic basketball debut.
Doncic had 20 points, 11 assists and eight rebounds, and Slovenia beat Germany 94-70 on Tuesday in the opening game of the men's quarterfinals.
The Slovenians will face either unbeaten France or Italy on Thursday in the semifinals.
Sports climbing makes Olympic debut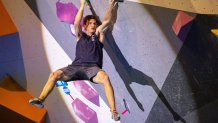 Sports climbing made its Olympic debut early Tuesday morning with the men's combined qualification.
There are three disciplines in Olympic sports climbing: Bouldering, Speed, and Lead. Each participant must compete in all three, and a winner is determined by multiplying a competitor's placement in the various disciplines. The lowest score wins gold. Because each competitor must compete in all three disciplines, each climber must have a combination of speed, flexibility, and endurance if they wish to reach the podium.
Team USA's hopes of gold in men's sport climbing's Olympic debut rest on the shoulders of Nathaniel Coleman and Colin Duffy. The top eight in the qualification round move on to the final on Thursday morning. Duffy finished third, Coleman finished eighth.
Watch on USA Network at 9:30 a.m CT.