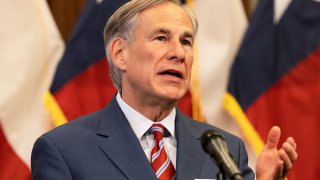 Texas Gov. Greg Abbott (R) officially filed for re-election in November, ahead of the December filing deadline but Saturday night he "officially" kicked off his campaign efforts in South Texas.
Abbott was in the Rio Grande Valley hosting a Hispanic Leadership summit.
Late Saturday afternoon in McAllen he once again announced he's running for re-election followed by a shower of confetti.
Abbott is seeking a third term in the state's highest office.
On the Republican side, Abbott faces (in alphabetical order) Wise County attorney Paul Belew, North Texas business owner Danny Harrison, Houston-area woman Kandy Kaye Horn, former state senator Don Huffines, Springtown computer engineer Rick Perry (not that Rick Perry), talk show host Chad Prather, former Texas GOP Chair Allen B. West.
Local
The latest news from around North Texas.
On the Democratic side, Abbott faces (in alphabetical order) Inocencio "Inno" Barrientez, Beaumont native Michael Cooper, former public radio journalist Joy Diaz, former El Paso congressman Beto O'Rourke, and Rich Wakeland.
Two other candidates are also on the ballot, Green Party candidate Delilah Barris and Independent Deirdre Dickson-Gilbert.