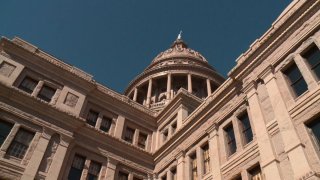 State Republican Party officials on Friday forwarded Parker County computer engineer Rick Perry's name to the Texas secretary of state's office for inclusion as a candidate in next year's gubernatorial primary.
"We are putting his name on the secretary of state's website right now," said James Wesolek, a spokesman for the Republican Party of Texas.
On Monday, Ricky Lynn Perry, 63, of Springtown, northwest of Fort Worth, filed his papers as a gubernatorial candidate on Monday.
He is not James Richard Perry, 71, the former Texas governor and U.S. energy secretary.
But citing sound-alike candidates of yore, from Texas Supreme Court Justice Donald Yarbrough in the 1970s to victorious if little-known Railroad Commission candidate Jim Wright last year, experts have said the Parker County Rick Perry – if he stays on the ballot – could force incumbent GOP Gov. Greg Abbott to have to spend a little more in the next three months.
Click here to read more on this story from our partners at The Dallas Morning News.