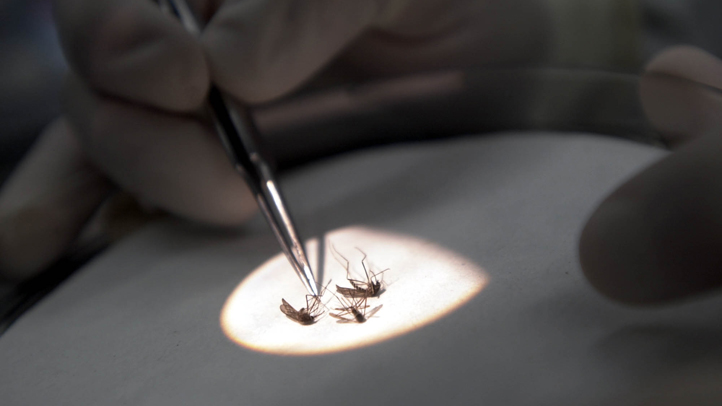 Dallas County Health and Human Services confirmed Monday that two more people have died after contracting West Nile virus.
The patients had the neuroinvasive form of the disease and lived in zip code 75225, according to health officials. The neuroinvasive form of the virus is the most serious form and affects the nervous system.
DCHHS does not release additional identifying information because medical confidentiality and privacy reasons. However, during a press conference Monday afternoon, officials revealed the latest victims were two men that had underlying health conditions. One man was in his 80s, and the other was in his 90s.
Local
The latest news from around North Texas.
A total of five Dallas County residents have died after contracting the virus. In 2006, Dallas County reported four deaths, making 2012 a record year.
The other zip codes that contained reported deaths include 75204, 75205, and 75050.
There are 94 reported human cases of West Nile virus in Dallas County as of Monday afternoon.
The county health department said it expects to be near the 100-case mark by the end of the week.
To report or inquire about mosquito activity in the Dallas County area, contact 214-819-2115 or visit the DallasCounty.org West Nile virus web page.
Get tips on symptoms of West Nile virus and West Nile virus prevention for Tarrant, Dallas, Denton, Collin and Parker counties here.
West Nile Virus Facts
Most people bitten by a West Nile virus-infected mosquito will not show any symptoms. Symptoms, if they appear, are fever, headache, nausea, body aches, swollen lymph nodes and skin rashes.
Fewer than 1 percent of those infected with West Nile virus experience the serious form of the illness. Serious symptoms include high fever, severe headache, neck stiffness, disorientation, tremors or convulsions, vision loss, muscle weakness and numbness or paralysis.
Both Dallas and Richardson are urging residents to:
Drain standing water around their homes to reduce mosquito breeding grounds.
Dress in pants and long sleeves when outside, but avoid becoming too hot.
Apply an insect repellent that contains DEET to exposed skin and to clothing when outdoors.
Stay indoors at dusk and dawn, when mosquitoes are most active.
NBC 5's Ray Villeda contributed to this report.