The capital murder trial of Glen Samuel McCurley, the man accused in the 1974 kidnapping and murder of 17-year-old Western Hills High School junior Carla Jan Walker, began Friday morning with opening statements and graphic crime scene images shown to jurors.
Prosecutors announced in May they were seeking life behind bars for the 78-year-old suspect instead of the death penalty. Jury selection began Thursday.
According to police, Walker was abducted, held captive, and sexually assaulted before being murdered and left in a ditch after a Valentine's Day dance 47 years ago.
McCurley entered the courtroom by wheelchair Friday morning. What followed were opening arguments from the state and his defense attorneys.
The state called up Rodney McCoy as their first witness. He was Walker's boyfriend at the time. Police say she was snatched from his car while they sat in a bowling alley parking lot after the dance.
McCoy spoke about the man he said threatened him with a gun and knocked him unconscious before Walker was taken.
Local
The latest news from around North Texas.
"I'm not sure how many times I got hit. I believe it was more than once, according to Carla's reaction, because she screamed 'stop hitting him!'" McCoy told the court Friday. "Carla turned her face to me and I can visualize it, she said, 'Rodney, go get my dad.' Those are the last words I heard from Carla."
The state showed photos from the crime scene, which included a magazine clip.
According to police, McCurley had been identified as a person of interest during the initial investigation in 1974 because he owned a gun, a .22 Ruger, that matched a magazine found at the crime scene.
On cross-examination, the defense said McCoy told police he thought five or six people took Walker and that he had pointed out someone in a police lineup. McCoy testified Friday morning he doesn't remember that.
Following McCoy, two retired Fort Worth police officers who worked the case were called to testify.
Another key witness to take the stand was now-retired lead investigator in the case Jim Minter, formerly of the Tarrant County Sheriff's Office.
Minter was not able to recall whether some evidence collected was ever tested, including hair found near the entrance of the culvert and bloody hair found on the roof of the culvert.
Minter acknowledged the hair in the culvert may have ended up there, when the suspect stood up and hit his head on the roof.
The retired law enforcement officer was also not able to recall exactly why at least three men who allegedly confessed to the murder shortly after, were later ruled out.
He did recall that one man from Tennessee was not able to tell detectives in what direction the victim was lying in the culvert.
The defense claimed in opening arguments that no forensic evidence from the scene was linked to McCurley. His lawyers also called into question the other DNA evidence that was confirmed to match McCurley, as well as his confession -- stating that he was telling police what they wanted to hear.
McCurley's defense attorneys are also calling into question how well the crime scenes were handled, including whether detectives wore gloves and whether key evidence kept in sealed paper bags may have been contaminated over the years.
In 2019, lead detective Leah Wagner of the Fort Worth Police Department sent several items of clothing to be tested in the case, including Walker's dress, bra and underwear.
Fort Worth officers set out to collect trash bags from McCurley's house. Several discarded items were tested.
Wagner testified the lab found DNA on Walker's bra, matching someone inside the home of former person-of-interest McCurley.
"There's not going to be a whole lot of evidence of what happened with that bra between 1974 and when it was tested in 2019," said defense attorney Steven Miears in his opening statement. "You're going to have to decide for yourself whether any of that could've been contaminated evidence."
Miears also called into question the alleged confession police got from the then-77-year-old man with cancer who was questioned for four hours.
"He told them 'I had nothing to do with it. If I tell you what you want to hear, I'll get hung. I'll get the death penalty,'" stated Miears. "'They promised him: No, you won't,' so he tells them what they want to hear."
NBC 5 learned in September 2020 that DNA evidence recovered from clothing and a bra worn by Walker on the night she was killed was sent to Othram, a private lab in The Woodlands. The DNA profile created at Othram was used to narrow the search to three brothers with the last name McCurley.
Detectives spoke to McCurley during the initial investigation, but they did not pursue McCurley again following the 1974 interview until the DNA profile match was found in GEDMATCH.
Police collected trash from a bin in front of McCurley's residence in July 2020 and they were able to determine that the items matched the male DNA profile found on Walker's clothing.
On Sept. 10, 2020, police said they returned to McCurley's home and spoke to both him and his wife, during which time McCurley told the same story that he told detectives in 1974. He said he didn't kill anyone and did not know Carla Walker.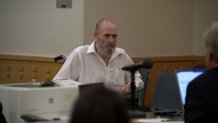 McCurley agreed to provide a DNA sample, and six days later, police said they were notified the swabs matched the DNA found on Walker's bra.
A warrant for capital murder was then obtained and McCurley was taken into custody without incident. Jail records last fall showed McCurley was being held in the Tarrant County Jail on a charge of capital murder with a bond set at $100,000.
During a news conference in September 2020, detectives with the Fort Worth Police Department said they believe the assault and murder were random and that Walker and McCurley didn't know each other.
Police said it appeared that over the last four decades, McCurley led a relatively normal life, was married and had two children. Police also said that McCurley is not a suspect in any other crimes.
The Tarrant County DA's office said earlier this year that assistant criminal district attorney and chief of the Adult Sexual Assault team, Kim D'Avignon, will prosecute the case against McCurley.
Testimony continues Monday morning at 8:30.
NBC 5's Alanna Quillen and Maria Guerrero contributed to this report.