What to Know
Blue Alert issued after officer shot during a traffic stop Sunday night
Police searching for 43-year-old Royce Wood in connection with shooting
Injured officer shot in the leg and believed to be in stable condition
A Blue Alert has been issued for a man authorities say shot a police officer during a traffic stop in Wise County Sunday night.
Local and federal officials fanned out in Wise County on Sunday to look for Royce Edward Wood, 43. According to Wise County authorities, Wood is still on the run as of Wednesday. The search for Wood has since gone statewide.
On Sunday night, Wise County sheriff's deputies and Rhome police pulled over two people on a motorcycle, at least one of whom matched the suspect description in a home invasion in the area Saturday night, near the intersection Farm-to-Market roads 407 and 2264, according to Wise County Sheriff Lane Akin.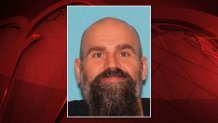 Akin said the driver of the motorcycle got off the bike and fired "a couple of shots" at officers and a Rhome police officer was struck in the leg. The injured officer was taken to John Peter Smith Hospital in Fort Worth in stable condition.
Akin said it was possible Wood could still be in the immediate area or that he was able to get away with the help of someone he knows.
Wood is a man well-known to police, Akin said.
"Law enforcement across North Texas knows of this guy," Akin said. "We're anxious to get him behind bars and we'll do everything we can do to do this as quickly as possible."
The Wise County Sheriff's Office issued a Blue Alert for Wood on Monday morning.
Wood is described as 6 feet 2 inches tall and weighing about 200 pounds. He is bald and has a full beard, green eyes, and was last seen on foot wearing a baseball cap with a camouflage bandana around it. He was also wearing black sunglasses, a vest, and a green shirt.
Akin said Wood is linked to drug activity, which potentially includes Saturday's home invasion.
Akin said the victim appears to have known Wood, who is accused of going into the victim's house armed with guns and getting away with items. The sheriff said the subsequent investigation found drugs at the victim's house, which is not far from the scene of Sunday's shooting.
"That's a common thread for this group of people and that common threat is methamphetamine," Akin said.
The sheriff added that about 85% of inmates at the county jail are in custody related to meth -- users or dealers.
Wood was released from prison in 2019 and is currently on parole after being convicted in a "burglary of habitation" case out of Lubbock in 2012, according to online records.
The search has expanded to not only include the rural area but also includes anyone who knows Wood and who may be helping him evade capture.
"The people around him are in danger, I have no doubt," Akin said. "We need to see that he's brought to justice because we don't appreciate that he's gone out there, and simply because of a traffic stop, he turns and shoots one of our officers."
The injured officer is a veteran in law enforcement with about 20 years of experience but had just started with the Rhome Police Department two to three days prior, the sheriff said. He previously worked for the Boyd Police Department.
The still unidentified officer also has a wife and children.
"We're just so thankful that the injury was somewhat minor. I know he's in a lot of pain and he would disagree that it was minimal," Akin said. "If he sees this he'll probably be griping, and I'll get a call saying, 'You see how minimal when you're laid up with this pain.' But he's a great guy and we're happy that he's going to be OK and he'll return to the badge soon."
Anyone with information about Wood's whereabouts should contact the Wise County Sheriff's Office at 940-627-5971.