Maria Guerrero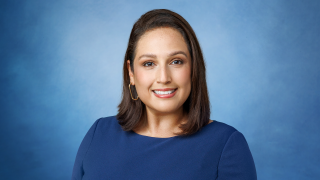 Maria Guerrero joined NBC5 as a general assignment reporter in February 2017.
Texas is her home state. Maria was born in Ciudad Juarez, Chihuahua, Mexico, but was raised in Lufkin, Texas, since she was an infant.
She knew she wanted to be a journalist while on a 6th grade field trip to her local news station: KTRE-TV. Seeing the amount of work that went on behind the scenes to bring the news of the day to the public, as well as observing the process of asking tough questions and getting answers "sold" her on journalism.
E-mail Maria | Follow Maria on Twitter | Like Maria on Facebook
She went from reporting for Hudson Middle and High School journalism programs to working as a production assistant at local news stations throughout high school and college.
Maria earned a bachelor's degree in Mass Communication with a concentration in Journalism and a double minor in Spanish and International Studies with a concentration in Latin America from Louisiana State University.
She's quick to give you a, "Geaux Tigers!"
Maria worked her way up from production assistant to on-air general assignment reporter at WAFB-TV in Baton Rouge, Louisiana, while still in college.
She then made her way to Madison, Wisconsin, where she worked as a general assignment reporter and weekend anchor at WISC-TV.
Maria covered Super Bowl XLV at Cowboys Stadium and even interviewed the parents of Packers' QB Aaron Rodgers at the Stockyards Station when the cattle drive was cancelled because of the icy conditions.
Maria then worked at KOB-TV in Albuquerque, New Mexico, as a general assignment reporter and weekend morning anchor, where her love for green chiles was born.
She then made her way to the Pacific Northwest and KIRO-TV in Seattle, Washington, as a general-assignment reporter, then weekend morning anchor.
Maria loves Seattle, but "home was calling."
Another reason Maria is thrilled to call DFW and NBC 5 home, is the opportunity to move into Spanish-language news by contributing reports to NBC 's sister station, Telemundo 39.
Maria is a devoted daughter, a doting aunt and passionate journalist.
She's active on Twitter and Facebook, so stop by and say 'Howdy!'