The Kaufman County Sheriff's Office has opened an internal investigation after a troubling video surfaced on social media.
Family members shared the video with NBC 5 on Wednesday.
It shows a deputy sitting on a teenage girl, and deputies scuffling with her mother before taking her down and placing her in handcuffs as well. Both were taken away by law enforcement.
What led up to the incident was not shown on the viral cell phone video.
The incident happened in the Deerfield Heights neighborhood near Doe Meadow Lane in Forney. In the video, the girl's mother, Antanique Ray, can be heard in the video telling the deputy, "'Hold on, I got her, she's my daughter she's only 18."
Ray can then be seen reaching in to grab her daughter's hand, and the deputy is heard yelling, "You need to back up, do not touch me."
Local
The latest news from around North Texas.
"My daughter is saying, 'Mom, I can't breathe, he's, on my stomach, I cannot breathe.' It's 102 degrees outside," Ray said at a press conference Thursday. "She reached for me, I grabbed her hand because I'm her mother, if she reaches for me, I'm going to grab her hand every time."
Ray said she told the deputy to calm down and he replied, "You can talk to her, but you can't touch me."
Ray said she's not sure how long the incident took place before she arrived, but was worried her daughter, Nekia Trigg, was in distress. In the cell phone video the deputy is heard saying he was responding to a call about someone trying to jump in front of traffic.
On Thursday evening the Kaufman County Sheriff's Office released video from the deputy's body-worn camera as well as additional information about the incident. In the body-worn video, the deputy is seen approaching Trigg as she walks down the street. He asks if she's ok, why she's crying and where she lives. Trigg tells the deputy she wants to go home and repeatedly tells him she doesn't want him to hurt her. The deputy tells her he's responding to a call that she was jumping in front of cars. He grabs her arm and tells her she can't walk off from him. The Sheriff's Office said the deputy used a control technique he'd learned in training to prevent Trigg from running into traffic. His body camera then falls to the ground while still recording.
The family's attorney said some details provided are incorrect.
"This officer, who repeatedly stated that she was at harm, that she was trying to harm herself, and if this was in fact the case, and it wasn't -- let me make that clear -- it wasn't, but if it was, imagine as a parent your child calls you and says, 'Mom I'm in danger from an officer,'" Cole said. "Officers are here to serve and protect, and if he was doing his duty, if he thought that Nekia was trying to harm herself, throwing her to the ground and sitting on her chest was not the way to fix that."
Cole said Trigg was at a family member's house and wanted to leave, so she walked home. The family said when the deputy approached Trigg and grabbed her arm, she used her other hand to call her sister and mother.
Thursday afternoon, minister Dominique Alexander, with the Next Generation Action Network, held a news conference with the girl's mother where they called on the deputy to be disciplined, including termination.
"When I walked up and saw the officer on my daughter, it was nothing but God that allowed me to stay as calm as I was, running up to this officer straddled on top of my daughter," Ray said.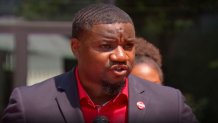 Alexander said the deputy was responding to a welfare call about a possible suicidal person and he questioned whether the deputy's actions were appropriate.
911 calls released by the Kaufman County Sheriff's Office support claims that the deputy was responding to reports of a possible suicide attempt. Two callers are heard telling dispatchers a woman appeared to be deliberately jumping in front of moving cars.
Ray was arrested and charged with assault on a public servant and interfering with public duties. She was released on bond and her 18-year-old daughter was taken to a mental health facility, evaluated and released.
The Forney Police Department told NBC 5 their officers were called to the scene but when they arrived they realized Kaufman County Deputies were responding and they weren't needed.
"When two of our officers arrived at the scene, the situation was already being addressed by the Kaufman County Sheriff's Office and no interaction from the Forney Police Department was required," Forney police said.
Next Generation Action Network held a rally outside the Kaufman County Sheriff's Office Thursday night.
"I was trying to deescalate a situation where a person of authority was there and that was his job. This is my daughter," Ray said to the crowd.
Ray said when she approached the scene she was trying to understand why the deputy was on top of her daughter.
"All I was saying was 'sir, you can detain her or whatever you need to do, but can you please get off from on top of her,'" she said.
Alexander said the family and Next Generation Action Network demand the deputy undergo drug testing and termination. They also want an an investigation into the other deputies on scene. Additionally, they want all charges against Antanique Ray dropped, and all use-of-force complaints against the deputy released to the public.