Police arrested dozens of people Saturday night in Dallas, following a peaceful march and rally earlier in the day at city hall. It marked the second straight day of protests in response to the death of George Floyd in Minneapolis police custody.
After nightfall, people started to smash windows of businesses and loot from inside, as police officers and state troopers blocked major intersections in downtown Dallas.
Dallas police estimated 150 protesters looted a cigar shop and a donut shop at the intersection of Elm and Lamar streets, while NBC 5's media partner The Dallas Morning News captured video of others looting a Subway on Field Street.
There were also reports of looting at a Whole Foods Market in Uptown.
As of 10:45 p.m. Saturday, Dallas police said they'd arrested 74 people. Thirty-six were arrested outside city hall; 27 were arrested on McKinney Avenue; 10 were arrested on freeways, and one at the intersection of Elm and Ervay streets.
As looting continue for the second straight night, Dallas Mayor Eric Johnson implored people to stop.
At intersections across downtown, NBC 5 reporters saw Texas Department of Public Safety state troopers and Dallas police officers closing intersections.
As protests spread throughout the city, several images and videos of a man being beaten by protesters started to spread on social media.
The man went to the 2200 block of N. Lamar Street, which is where the House of Blues is located, carrying a machete, "allegedly to protect his neighborhood," police said.
Police said protesters assaulted the man when he confronted the crowd. He was in stable condition and transported to an area hospital.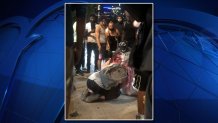 Earlier Saturday, hundreds gathered outside Dallas City Hall and marched through downtown, demanding justice after the killing of Floyd.
Local
The latest news from around North Texas.
The protest started with a rally at city hall before an estimated crowd of 700 marched peacefully through downtown, ultimately returning to city hall. One of the organizers was Jennifer Miller with the Dallas Alliance Against Racist and Political Repression.
"People have no idea how much it means that finally we're being heard. Martin Luther King said it himself, a riot is the unheard," Miller said.
Miller said the protest was a stand against years of police brutality.
"They've been doing this for entirely too long and they have had carte blanche for entirely too long and people are not going to take it anymore," she said.
One of the people who attended the rally Saturday was Lillian Johnson who brought her son.
"I want him to realize that he's a young black man growing in a world that might not always see him who he is, but just see him for the color of his skin. Life isn't fair. I need him to be strong and determined," Johnson said.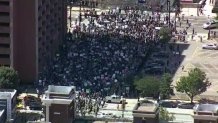 Before the march, the crowd outside city hall, many carrying signs that read "Black Lives Matter," took a knee in unison, while officials could be seen watching from windows inside.
Police said one person was arrested Saturday afternoon, and by 6 p.m. damage was largely limited to a Texas Department of Public Safety vehicle that was spray painted.
As the crowd dispersed later Saturday, some protesters took to the highway, partially blocking part of U.S. Highway 75 for a short time, before returning to downtown Dallas.
Police said they were aware of more potential demonstrations later Saturday, saying they respected the rights of protesters, but called violence or vandalism "unacceptable."
Police urged people to stay home Saturday night unless they had a "critical need."
Dallas Mayor Eric Johnson and Dallas police Chief Renee Hall called for a night of peaceful protests after Friday's march turned destructive, lasting into early Saturday morning.
Johnson expressed support Saturday for many of the protestors, but called out those he said took advantage of the rally.
"They exploited a collective cry for help for their own personal gain by looting. They chose to destroy things at a time when we should be building each other up," the mayor said. "And we just can't allow that. Not in Dallas. We cannot allow people to destroy the livelihoods of others or threaten the safety of the very same people we are asking to protect us in our time of need."
For many people downtown, the first part of the day Saturday was spent cleaning up their city.
"People have a right to be mad. I get it. It's horrific what's been happening in this country. It is absolutely horrific that these things are still happening," said Katherine Clapner, owner of Dude, Sweet Chocolate on Main Street. "But this doesn't solve it. It doesn't fix the problem. It just buries people that work really hard."
Gov. Greg Abbott (R) announced he would activate the Texas National Guard and deploy state troopers to the state's largest cities Saturday to help local police departments.
Several locations in Dallas that might otherwise have been busy on a Saturday closed early out of an abundance of caution, including Galleria Dallas, NorthPark Center and the Dallas Farmers Market.
In Fort Worth, three protesters were arrested.
Officers were blocking the roadway to prevent people from going onto the freeway when someone tried to push through the police line, police said.
The person ignored commands to stop and was taken into custody. While officers were arresting that person, another person was taken into custody while trying to stop the arrest, police said.
Police did not say why the third person was arrested.