The city of Dallas is once again doing its part to help protect birds migrating south through North Texas.
Mayor Eric Johnson issued a proclamation declaring 11 p.m. to 6 a.m. between Sept. 27 and Oct. 17 as "Lights Out Nights" in Dallas.
"Dallas, like a lot of big cities, is very bright," said Ben Jones with the Texas Conservation Alliance. "Every night between now and basically the end of October, maybe even a little past, the night sky is like a super highway of migratory birds."
Residents and businesses are urged to turn out non-essential lights at night when hundreds of millions of birds pass through Texas. The birds are disoriented by lights at night and are more likely to collide with buildings as a result, a city spokesman said.
"Migration is the most dangerous part of their whole lives," Jones said. "When they're attracted down into the city there are a lot of things that can go wrong down here. A lot of times they collide with the building, or they circle for hours and end up dying of exhaustion."
Lights Out Texas is a statewide initiative led by a coalition of conservation nonprofits, universities, governmental organizations and Texans dedicated to the conservation of birds.
Every morning volunteers head out on a 7-mile trek through downtown Dallas, collecting injured or dead birds that hit buildings.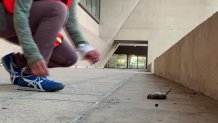 "I go on a lot of bird walks, and this is the only one where you don't want to find a single bird," Jones said.
Local
The latest news from around North Texas.
Households are being urged to take part in Light Out Texas too.
"Everybody can take action to save birds and it's simple," Jones said. "All they have to do is turn off all non-essential lighting."
According to one study, Dallas was ranked third of the 125 most populous American cities for exposing migrating birds to light pollution.
In Fort Worth, downtown businesses are taking part in Lights Out from Sept. 5 to Oct. 29, when the birds' migration ends.