At the Dallas Museum of Art, patrons only need walk a few steps to explore the career of an innovative multimedia artist and discover the enticing work of emerging female designers. "Günther Förg: A Fragile Beauty" will be on display through January 27. "Design + Women: New Works" may be viewed through February 17.
"Günther Förg: A Fragile Beauty" is the first U.S. museum exhibition to feature the German artist's work in nearly three decades. In collaboration with the Stedelijk Museum in Amsterdam, the exhibition is an extensive retrospective of Förg, who died of cancer in 2013.
Michael Neff, Förg's former assistant who now works with the Estate of Günther Förg, explained the artist's methods as vividly demonstrated in the exhibition beginning with a series of gray paintings and large fabric panels on either side of the entry.
"He just folded this kind of fabric over the canvas and put them on the wall. They were blue and green and red and different sizes," Neff said. "He always used them to start in special shows like we did and put them to the right and left on the wall of the entrance to something coming up."
The monochromatic gray paintings are in stark contrast to Förg's "Spot Paintings" from 2007 and 2008. The colorful spots on a white ground resemble an artist's paint palette. Although the works look simple, Neff explained Förg worked on them over time, selecting his colors carefully and adding spots until he was satisfied.
"He was collecting colors in the way of the pigment. He put them in huge glasses. He collected them on shelves in his studio. When he would start working, he would always put them on the table in totally different glasses and worked on how they could feel with each other, how they connect with each other," Neff said.
Displayed with the "Spot Paintings" are puzzling assemblages of seemingly random items from his studio covered in plaster. "Günther always thought this was a nice idea to get rid of his stuff," Neff said. "You can see one of the masks, there are some of the brushes in it, there's some working materials in it. It's a time capsule."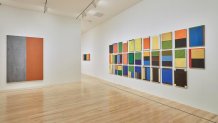 A series of paintings reminiscent of Mondrain are striking because of their materials: Förg painted them on slabs of lead. He painted them quickly and was interested in the surface of the lead as well as other artist's modes of expression.
"He was not copying any kind of works of these artists, but he was referencing on their way of expressing modernism and abstraction," Neff said.
Another series of paintings featuring grids were inspired by another of Förg's favorite artists, Edvard Munch. Munch suffered from poor eyesight later in life and used grids to fill the backgrounds of his paintings.
"Günther was a big fan of Edvard Munch and he had a close relationship with the director of Munch Museum in Oslo. He guided Günther through the storage of all the Munch paintings and Günther found out these grids were happening all the time," Neff said.
Some of Förg's grids are layered repeatedly, but others stand alone, mimicking windows. Some of these paintings are paired with Förg's photographs of architecture. Together, the works reveal the artist's lifetime of artistic exploration of materials and mediums.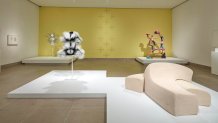 "Women + Design: New Works" showcases the museum's recent acquisitions of works by seven contemporary female designers. "Not only are we showcasing and amplifying the voices of these young designers, but we've also put a stake in the ground and are really owning them," Sarah Schleuning, the museum's Margot B. Perot Senior Curator of Decorative Arts and Design, said.
Two works by Iris van Herpen echo the museum's large-scale exhibition from last year, with a newly commissioned piece resembling an ethereal cloud and a previously displayed piece from the series, "Voltage". "It's supposed to look like it's almost alive and almost like static electricity. A great piece we get to fluff every couple of days," Schleuning said.
Lebanese designer Najla El Zein created maquettes of a series of six benches gradually beguiling each other. Schleuning saw models of the sensual series and El Zein created the full-size piece for this exhibition.
"This is the last, the culmination of the seduction," Schleuning said, "The exalted repose!" The work consists of two pieces made of sandstone. Schleuning explained it took two days to install these kissing benches and was adamant no one would sit on the benches at the museum.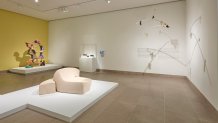 Toogood is spellbinding for adults and infants. "I think it's the surprise sleeper hit of the show because the shadows are so amazing," Schleuning said. "It was originally done for over a crib for a baby." The father of the baby admits he regularly hits his head on the bronze and glass mobile, but it's worth it for the beauty of the piece.
MORE: Günther Förg: A Fragile Beauty | Women + Design: New Works
Copyright FREEL - NBC Local Media