Forney native Laci Bradshaw-Roberts is home for the holidays. That's a rarity for the wardrobe supervisor of the national tour of Lincoln Center's 2015 Tony Award-winning revival of The King and I, now playing at the Winspear Opera House through December 31.
Bradshaw-Roberts' theatrical career began in Dallas. After graduating from Tarleton State University with a BFA in theater, Bradshaw-Roberts freelanced in Dallas, stitching and scenic painting at Dallas Theater Center, Dallas Opera and the television show, Barney and Friends. "I was working as a scenic painter and the wardrobe head over at Dallas Theater Center called me and I had never worked wardrobe before. She knew I had worked in the costume shop and asked, 'Are you available to come work A Christmas Carol?' And was like, 'Yes, of course!' I never told her I hadn't worked wardrobe. I just went in and it was one of the most fun shows I've ever worked. I had a blast doing it and that's how I got my foot in the door doing this," Bradshaw-Roberts said.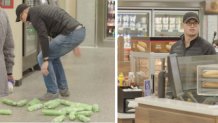 Wanting to travel, she worked her first touring production in 2007. With dressers specifically for stars, several children in the cast, child wranglers and countless Tony Award-winning costume and wardrobe pieces, this touring production of The King and I is one of the most complicated shows she has worked. "This show to me is over-the-top because it has all of the elements," Bradshaw-Roberts said. "It's so big in so many ways."
The tour began in September 2016. A significant part of Bradshaw-Roberts' job is to think ahead to the next stop. She advances the show, figuring out the details of work calls, rehearsals, dry cleaning and shoe repairs. "Once we get to the city, my assistant and I load the show in, get it all set-up and get everything washed, cleaned, steamed, everything passed out and set-up. Then we teach the tracks to the ten dressers," Bradshaw-Roberts said. "Every city, we get ten different personalities and they have to work with the actors and they have work with child wranglers. It's just making sure everybody is happy and keeping the peace."
Bradshaw-Roberts oversees assigning the dressers a specific pattern of tasks, or tracks, to make the costume changes happen efficiently. "When I go into a city, I hand the dressers a little index card book and then we teach the show from that," Bradshaw-Roberts said. She assigns numbers to each actor, odd numbers for men and even numbers for women. The costumes are labeled with those numbers so dressers can quickly know which piece belongs to which actor.
Each backstage of a theater is different, and she routinely retools the tracks. "When we were in San Francisco, we were down in the basement and there wasn't a crossover onstage, so we had to redo pretty much all the tracking. Where ensembles usually get dressed at their chair, we had to do it in these little hallways by the stage," Bradshaw-Roberts said.
Once the show is running, Bradshaw-Roberts concentrates on costume maintenance. With performers routinely crawling on their knees and rambunctious children wearing delicate crowns, Bradshaw-Roberts and her assistant constantly repair rips. "We're always on out toes with this show because there's a ton of repairs. That's the biggest challenge on this show. Every show, you have repairs, but on this show, there's an exponential amount of repairs. We can't catch up," Bradshaw-Roberts said. "It's job security."
Bradshaw-Roberts researches and shops online to replace kneepads and purchase specialty fabric to patch costumes. Amazon.com and Etsy are favorite vendors. She anticipates when certain wardrobe pieces need to be replaced. "Some things do come from overseas and it's a little harder. Our headpieces come from Thailand. When we put in orders for headpieces, it takes nine weeks to get them, so we have to plan ahead," Bradshaw-Roberts said.
The masks used in "The Small House of Uncle Thomas" ballet are among her favorite wardrobe pieces. "I think they're amazing. I think the way they constructed them was very smart for the dancers to wear. I love to paint distressed costumes, so I do mask touch-ups a lot and I enjoy painting them," Bradshaw-Roberts said.
This tour will end in August 2018 with 19 more cities after this stop in Dallas. Bradshaw-Roberts is fortunate to work with a loved one. "I tour with my husband. We've been touring together for seven years. We're kind of a team at this point. If we can't get on a show together, we won't tour," Bradshaw-Roberts said. Her husband, Barrett Roberts, is an assistant electrician for The King and I.
Although she has toured to all 50 states, every province in Canada and five cities in Australia, Texas is Bradshaw-Roberts' home. "I'm a Texas girl," Bradshaw-Roberts said. "I'm obsessed."
Online: The Dallas Morning News review of The King and I

Online: Learn more about the show here.