A silent movie may be featured in the first concert of Dallas Chamber Symphony's 2017-2018 season, but the world premiere of a new film score is anything but quiet. DCS commissioned Douglas Pipes, a Los Angeles-based film composer whose feature film credits include Monster House and Krampus, to compose a new score for Buster Keaton's The General. The film will be screened with live orchestral accompaniment at 8:00 p.m. on October 17 at Moody Performance Hall in the Dallas Arts District.
This is the second time DCS has commissioned a score from Pipes. His first DCS composition assignment was a new score for Alfred Hitchcock's The Lodger in 2014.
"I tend to like composers who are versatile. This score is likely to be folksy and nostalgic and he's able to write quickly and efficiently. He's so talented and is easy to collaborate with. It's smooth sailing working with a composer like Douglas," Richard McKay, DCS's Artistic Director and Conductor, said.
The Lodger was Pipes' first silent film score, but it was a challenge he enjoyed.
"Because there is no other sound, the score is up front and center and there are no gaps," Pipes said. "It's exciting because there's a lot of freedom. The film is already produced and there's no director offering input. It's really my take."
McKay appreciated the artistic success of the thriller's score.
"The audience loved it. I thought he paced it well for the dramatic climax of the film. Not every composer can use the instruments to build up the suspense of the film," McKay said.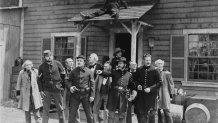 The General is a different musical challenge. "The Lodger has much more eerie and suspenseful music. The General is much more frenetic," Pipes said.
The comedy-action film is based on William A. Pittenger's "The Great Locomotive Chase," a true story about a Union raid on a Confederate train during the Civil War.
Buster Keaton plays Johnnie Gray, a train engineer, who tries to join the Confederate army to impress his fiancée, Annabelle Lee. When the army rejects him, so does his fiancée. Redemption comes in the form of Union soldiers stealing his beloved train, The General, with Annabelle Lee onboard. Johnnie chases the train, hoping to save both his lady and his machine.
Now considered an important classic, The General was not initially well-received.
"Audiences were used to fast-paced comedies. Keaton made the film in mostly realistic style, and although funny, his gags sometimes take a while to build to a laugh. Film critic Robert E. Sherwood was horrified that Keaton showed soldiers being killed in a comedy. Of course, today we recognize 'black comedy' and find it funny. Today, we find it amazing that Keaton was able to make the Confederate and Union armies 'straight-men' to his comedy," Bruce Calvert, a local film historian, said.
Keaton spared no expense filming this bold comedy. "The location-shooting in Oregon was expensive, and the train-wreck on the bridge was probably the most expensive shot in all of silent film. Keaton felt like he was making a great film, and that it would easily make back its cost," Calvert said.
It did not. In 1927, Keaton's manager switched from working with studio giant Metro-Goldwyn-Mayer (MGM), who owned a significant number of theaters, to United Artists, who owned far fewer theaters. Because the film appeared in fewer theaters, it never had a chance to earn back its costs. "In the 1950s, when movie comedy was mostly verbal, film critics and audiences rediscovered Keaton and his films still seemed modern," Calvert said.
Pipes' score reflects the modern appreciation for Keaton's work. "The film certainly stands the test of time in terms of its performances and action, especially its stunts. The score is more about playing up its adventurous spirit," Pipes said.
Pipes watched Ken Burn's The Civil War to immerse himself in the film's period sonically, picking up on the folk songs ubiquitous during that era. The war is merely the film's setting and the film does not speak to the cause of the war or defend slavery. It is an intimate longing for home. "I've tried to create themes that are more personal," Pipes said "It's a love story. He loves his train and he loves his woman."
Dallas Chamber Symphony's 2017-2018 season continues November 7 with Shostakovich's Chamber Symphony, Op. 110. The season also includes Crossroads, featuring a collaborative work with Dallas Street Choir by artist-in-residence Douglas Buchanan, on January 20; Milhaud's Creation of the World on February 20; and Yibing Zhang, winner of the Dallas International Piano Competition 2017, will play Rachmaninoff's Piano Concerto No. 3 on May 1. Dallas International Piano Competition 2018 will take place at SMU's Meadows School for the Arts March 14-17.
"Each concert is a little different, something for everyone." McKay said.
MORE: Dallas Chamber Symphony

Kimberly Richard is a North Texan with a passion for the arts. She's worked with Theatre Three, Inc. and interned for the English National Opera and Royal Shakespeare Company. She graduated from Austin College and currently lives in Garland with her very pampered cocker spaniel, Tessa.
Copyright FREEL - NBC Local Media