Tommy Bourgeois' job is to make dreams come true. At The Dallas Opera, he designs props and works in the costume shop, creating the fanciful world of numerous operas since 1985. When Phyllis and Tom McCasland, longtime Dallas Arboretum supporters, had a vision for a holiday exhibition, Mary Brinegar, the Arboretum's president and CEO, turned to Bourgeois to make it a reality.
Now in its fifth year and on view through December 31, "The 12 Days of Christmas" display, designed by Bourgeois and presented by Reliant, is one of Dallas' beloved holiday traditions.
[[501376331, C]]

Bourgeois teamed up with Dallas Stage Scenery to design and build the display consisting of 12 life-sized music box gazebos. The two-year creation process began with Bourgeois' memories of past Christmas magic.
"I looked back and reflected on when I was a kid going to see department store windows," Bourgeois said. "They were always phenomenal, and I always wanted to do that. A lot of this is over-the-top, but I believe it's something kids can get into. It's things they need to look at and find and see and start conversations. There are little surprises."
The structure and the mechanics of the 25-foot-tall gazebos are made up of 25,963 pounds of aluminum and dressed up with 30,456 wooden berries on the transoms, 400 gallons of paint, and 28,328 rhinestones on the columns. Inside the gazebos are 28 hand-carved animals and 55 mannequins with hand-painted faces reflecting their own personality.
Bourgeois found a taxidermist in Carrollton to create perfectly sized bird bodies in specific positions and then sent the figures to California to be feathered and covered in fake fur. He used 180 yards of fabric to sew elaborate costumes for "9 Ladies Dancing." Each gazebo features some form of movement from swans gracefully swimming to a circus bear and seals balancing five spinning gold rings on their noses.
He had a specific vision for "A Partridge in a Pear Tree."
"I didn't want it to be furred. I wanted it to be like a piece of Fabergé jewelry. He is totally rhinestoned and sequined. We even dyed sequins to match the color of the bird so it would gradiate the right way on his feathers and striations," Bourgeois said.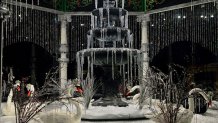 Creating these detailed displays is not that much different from his work at The Dallas Opera. "Basically, it was like doing 12 individual shows. Sometimes it was like doing two big musicals," Bourgeois said. "There's a lot of costumes out there and animals. We had to do wigs, we had to do make-up, we had to do clothes, shoes, all the things you do for people in a show."
Unlike opera productions, these displays sit outside for several weeks and that played a role in the design. Initially, Bourgeois did not plan to enclose the displays, but upon considering Dallas' unpredictable weather and the foxes, hawks, raccoons, possums, squirrels, rabbits, coyotes, and armadillos that enjoy the Dallas Arboretum as much as humans, Bourgeois enclosed the gazebos with glass.
As the gazebos were completed, Bourgeois was in awe of their size. "You could live in the big ones. They're as big as a New York apartment," Bourgeois said.
Bourgeois and the team at the Dallas Arboretum carefully selected where each gazebo would be placed, determining the best views and encompassing the entire park. "We even made life-sized patterns of the ground plan of them and dragged them around the park going, 'Oh, we'll put this one here and this one there,'" Bourgeois said.
The gazebos are placed in the same position each year, with a team of firemen beginning the work of assembling the exhibition at the beginning of September. Bourgeois explained the gazebos occasionally need some touch-up paint or a few new rhinestones.
"We've been fortunate that we haven't had to do a lot of repairs," he said. "It's in remarkably good shape. Really and truthfully, we're not far off from where it started. It's just because the time and the energy was taken by the shop and the Arboretum to realize you have to store this correctly and properly for it to be used over and over and over like we do."
[[501375541, C]]
Paired with "The Artistry of the Nativity," an exhibition featuring 500 creches from over 50 countries, in the DeGolyer House, "The 12 Days of Christmas" is the stuff of holiday dreams.
On Wednesdays through Sundays, the Dallas Arboretum is open from 6-9 p.m. so visitors can enjoy the gazebos lit by 500,000 lights in the garden.
"They have a different life in the day and a different life in the night, I think," Bourgeois said. "They look good in both times, but I think the magic is at night."
Copyright FREEL - NBC Local Media