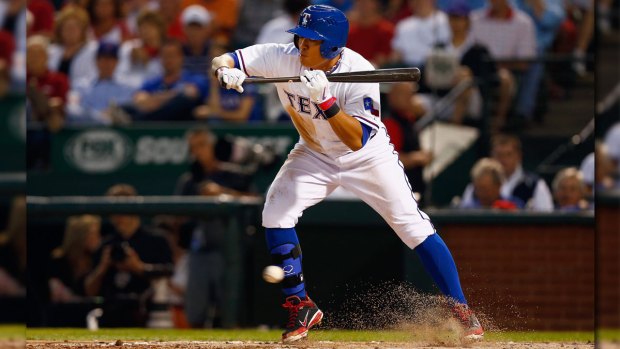 Getty Images
Shin-Soo Choo #17 of the Texas Rangers gets hits a by a pitch in the bottom of the third inning against the Philadelphia Phillies at Globe Life Park in Arlington on April 1, 2014 in Arlington, Texas.
Shin-Soo Choo was advertised as a guy who gets on base at a great clip and works pitchers to death by seeing a ton of pitches.
On Tuesday night in the Texas Rangers' first win of the season, Choo was as advertised.
The new Rangers' leadoff hitter reached base four times — via two walks and two singles — and scored two late runs, including the walk-off game winner in the ninth inning on Adrian Beltre's single.
It was Choo's plate patience that set up the game-winner after the Phillies put a lefty kid in to pitch and make his big-league debut. Mario Hollands was clearly nervous, as he walked Choo on four pitches before he was sacrificed to second by Elvis Andrus, and then he walked Prince Fielder.
Choo's struggles against lefties are well-chronicled, but on Tuesday, he did his job against righties and lefties both and was the ultimate table-setter in the Rangers' lineup, just as they'd hoped.