A cold front moved through North Texas Sunday night, bringing with it heavy rain, strong winds and a big drop in temperatures.
Tornado Warnings were issued for parts of Ellis, Hill and Johnson counties at various points through the night, but no tornadoes were reported Sunday night.
Tornado Watches were in effect for Anderson, Freeston, Henderson, Hopkins, Navarro, Rains, Red River and Van Zandt counties until 2 a.m. Monday.
According to the National Weather Service, winds as high as 70 mph were measured at Dallas-Fort Worth Airport, 60 mph gusts were recorded in Mineral Wells around 8:20 p.m. and gusts of 50-55 mph in Denton County just after 9 p.m.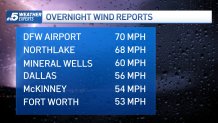 The NWS received reports of pea-sized hail was reported in Roanoke, Muenster and Azle.
At 11:20 p.m. Sunday, more than 35,000 customers across North Texas were without power: 13,147 in Dallas County, 12,802 in Tarrant County, 7,483 in Collin County, 2,464 in Denton County and 1,157 in Johnson County, according to ONCOR. By 4:50 a.m. Monday, the number of outages across Oncor's service area reduced to about 14,800, with the majority -- 4,478 customers affected -- being in Dallas County.
The storm brought 15-plus degree drops in temperatures across North Texas, sending temperatures into the mid-60s as it moved across the region.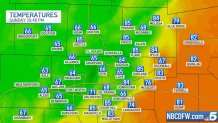 Monday looks dry, but another storm system will approach during the week. So storm chances will begin again as early as Tuesday, and ramp up again Wednesday and Thursday. A few showers may even persist into Friday. Before the week comes to an end, DFW could see an additional 2 to 3 inches of rain.
Be sure to stay weather aware and stay with us for updates and adjustments to the forecast.
CONTINUING WEATHER COVERAGE
Stay up to date with the latest weather forecast from NBC 5's team of Weather Experts by clicking here or by watching the video below.