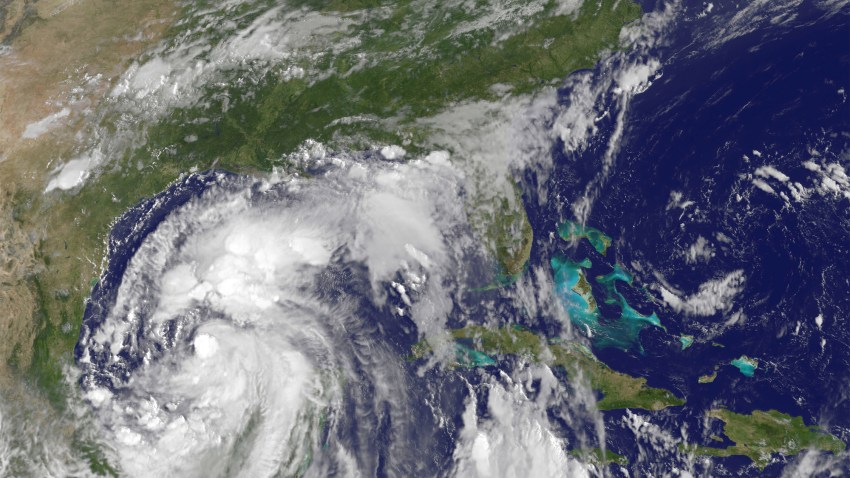 Alex became the first Atlantic hurricane of the season late Tuesday as the storm gained strength while churning toward the Mexico and Texas coastlines but stayed mercifully far from the massive Gulf oil spill.
The National Hurricane Center in Miami upgraded the storm to a Category 1 hurricane shortly before 10 p.m. CDT after measuring sustained winds of 75 mph. Alex is the first June hurricane in the Atlantic since 1995, the hurricane center said.
Bands of intense rain began lashing deep south Texas and northeast Mexico Wednesday morning as Alex slowed its movement to 7 mph. The National Weather Service pushed Alex's landfall back to late Wednesday night or early Thursday and raised the possibility that it would make landfall as a Category 2 hurricane.
Weather Connection
Connecting you with your forecast and all the things that make North Texas weather unique.
Texas residents had been preparing for the storm for days, readying their homes and businesses and stocking up on household essentials. But the storm was expected to deal only a glancing blow to the state and to make landfall south of Matamoros, Mexico, and some 100 miles south of Brownsville.
The storm was expected to pack winds of at least 90 mph when it comes ashore, but those could increase to as much as 110 mph if it strengthened to a Category 2.
As of 7 a.m. CDT Wednesday, Alex was 220 miles southeast of Brownsville moving west-northwest at about 7 mph, with maximum sustained winds near 80 mph.
Coastal residents and vacationers looking forward to the Fourth of July weekend began preparing in earnest Tuesday for the storm. Crews cleared roadside ditches, placed water pumps at flood-prone intersections and began boarding up windows after south Texas officials learned Tuesday they would have less time than expected to prepare for Alex.
Tourists packed up and left South Padre Island on Tuesday, while locals braced for Alex.
"When you live here, you take chances," said Liz Money, who owns the shop Ship Shape. "What we know is, when they say 'get prepared,' you do it, no messing around."
Business owners said they were worried about having to board up just days before what is typically their busiest weekend of the year.
"We have three shops on the island and a few rental properties, and we are worried," Money said.
Further north, crews in Grand Isle, La., reinforced the levee system in fear that high seas caused by Alex's massive circulation could push more oil on shore.
"We are worried that the oil washes in with the tide, (and) it gets into our neighborhood back here," said Christopher Hernandez of the Grand Isle Street Department.
Alex is expected to be at the low-end of the hurricane strength spectrum, but it will bring torrential rains to a Rio Grande delta region ill-suited, both economically and geographically, to handle it.
Passing showers Tuesday quickly pooled along parts of downtown streets in Brownsville and Matamoros, a worrisome sign with Alex expected to dump eight to 12 inches of rain in the region and as much as 20 inches in isolated areas.
Nearly 400,000 people live in Cameron County at the southernmost tip of Texas, one of the poorest counties in the United States. Brownsville Mayor Pat Ahumada said he would wait until to make his city's emergency declaration in part because the city is cash strapped and he did not want to start paying city workers extra before absolutely necessary.
Seven to 12 inches of rain were forecast, with even more in isolated areas.
Ahumada warned city residents Tuesday morning that Alex would be tougher than Dolly, bringing more rain and stronger winds and would move more slowly across the region.
"This is a very dangerous storm," he said. "It should not be taken lightly."
Cameron County closed beach access at the north end of South Padre Island in anticipation of heavy surf. And the University of Texas at Brownsville-Southmost Texas College campus closed at 3 p.m. Tuesday.
Neighboring Hidalgo County declared a disaster in advance of expected flooding to streamline purchasing and other emergency procedures, officials said.
The National Weather Service said a hurricane warning was in effect Tuesday for Cameron, Willacy and Kenedy counties. The coastal warning covered Baffin Bay and 100 miles south to the mouth of the Rio Grande.
Gov. Rick Perry on Monday issued a disaster proclamation for 19 Texas counties. The Alamo Regional Command Center has been activated, and 100 buses for evacuation were on standby. President Barack Obama declared a federal emergency for much of south Texas on Tuesday night, allowing officials in affected counties to ask for federal help.
North Texans Mobilize
Dallas Fire-Rescue's Texas Task Force 2 (TX-TF2) headed south on Monday with a convoy of two flatbed F-750 Ford pick-ups, the TX-TF2 18-wheeler and four cargo vans. The 43-person team will stage at Texas A&M University of Kingsville where they will join forces with other local, state and federal agencies. Members of the Dallas-Fort Worth International Airport Fire Department and a member from the City of Dallas Office of Emergency Management have also been dispatched.
The Red Cross sent two emergency response units from Dallas and two units from Fort Worth south on Monday. Those teams were headed to the Harlingen area to load up with supplies and prepare for Alex's landfall. Meanwhile, the Texas Baptist Men have their mobile kitchen ready to serve 20,000 hot meals a day to storm victims when dispatched.
On Tuesday, The Salvation Army's mobile disaster kitchen departed from Fort Worth. The Salvation Army has dispatched 11 more mobile disaster kitchens from around Texas. The units will arrive at the San Antonio staging area Wednesday to find out their assignment near the Texas coast. The Salvation Army plans top open a shelter that can house 200 in McAllen on Wednesday.
NBC DFW's Grant Stinchfield contributed to this report.
---
Get the latest news direct to your phone with NBC DFW SMS alerts. Text "DFWBreaking" to 622339 (NBCDFW) to subscribe to this free service. (Message and data rates may apply through your mobile carrier).

Read more about it here.
Copyright AP - Associated Press