Very heavy rain fell across North Texas on Tuesday, kicking off severe thunderstorm and flash flood warnings for parts of the Metroplex.
The rain isn't done yet -- this is a multi-day event and a Flash Flood Watch continues Wednesday and into Thursday morning. (See the latest forecast at the bottom of this page.)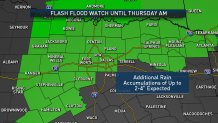 Wednesday Morning, Flash Flood Warnings are ongoing in Denton and Collin counties until Thursday morning for those along the East Fork of the Trinity River in McKinney and Denton Creek near Justin.
In Collin County, at 8:30 p.m. Tuesday, the stage of the East Fork of the Trinity River in McKinney was 14.3 feet, 1.7 feet below flood stage. Minor flooding is expected just after midnight to a crest of 16.3 feet. The river is expected to fall back below flood stage Wednesday evening.
In Denton County, at 7 p.m. Tuesday, Denton Creek was a 12.1 feet, more than two feet above flood stage. Minor flooding is expected to continue with the creek rising overnight above 13 feet. The creek is expected to fall back below flood stage Thursday morning. Should the creek rise above 15 feet, water is expected to start covering portions of Farm-to-Market Road 407 north of the creek and Tim Donald Road south of the creek.
Several roads are closed in Dallas County due to flooding. Click here for the full list.
Given the heavy rain that has occurred and the potential for an additional one to three inches of rain in the coming days, a Flash Flood Watch remains in effect through Thursday morning.
A Flash Flood Watch means conditions may develop that lead to Flash Flooding -- a very dangerous situation where water suddenly rises to threatening depths. (See all active severe weather alerts here.)
The heavy rainfall could certainly lead to flash flooding, especially in urban and poor drainage areas. Flood prone and poor drainage areas will be at most risk. Heavy rainfall around creeks, streams and rivers are likely to see water levels rise.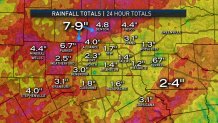 Be alert for rising water and never drive across a flooded road -- remember the phrase, "Turn Around, Don't Drown."
The highest rainfall amounts Tuesday were in Denton County where as much as nine inches of rain led to localized flash flooding.
A map view of the rain amounts (below) shows that there were several areas that had more than two inches of rain. That's very good news for North Texas, given the dry conditions from July and August.
Flash Flooding in Denton
Until Tuesday's rainfall, much of the area from Tarrant County to the west had been "abnormally dry." Further west, "moderate drought" and "severe drought" had been creeping in from Palo Pinto and Stephens counties westward. Click here and scroll down to see the most recent weekly update from the U.S. Drought Monitor.
Rain chances will remain high on Wednesday, although there will be dry hours as well.
The rain chances decrease Thursday through Saturday as the rain potential will not be as widespread.