Strong storms lead to localized flooding over parts of North Texas Tuesday and sparked watches and warnings in the northern counties Tuesday afternoon.
Because of the volume of rain expected in the multi-day event, a Flash Flood Watch was issued by the National Weather Service until Thursday. A Flash Flood Watch means conditions may develop that lead to Flash Flooding -- a very dangerous situation where water suddenly rises to threatening depths. (See all active severe weather alerts here.) Though the storms are also bringing much cooler weather, a Heat Advisory remains in effect until 8 p.m. Tuesday.
As the storms grew Tuesday afternoon, several inches of rain fell near the University of North Texas in Denton leading to a Flash Flood Warning and reports of localized flooding.
NBC 5 Chief Meteorologist Rick Mitchell said, "we should be prepared for heavy rain to go on like this for several days."
Between now and Thursday, much of North Texas is expected to receive 3 to 6 inches of rain. Mitchell added that, as of 4 p.m., Denton received about 5 inches of rain on Tuesday afternoon and Corinth about 4.5 inches.
Storms Bring Flash Flooding to Denton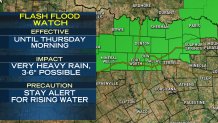 The heavy rainfall could certainly lead to flash flooding, especially in urban and poor drainage areas. Flood prone and poor drainage areas will be at most risk. Heavy rainfall around creeks, streams and rivers are likely to see water levels rise.
Be alert for rising water and never drive across a flooded road -- remember the phrase, "Turn Around, Don't Drown."
The highest chance for showers and storms will be Tuesday and Wednesday. Some storms may produce winds up to 60 mph along with heavy rain. It won't rain the entire time, but rather waves of showers and storms.
With the change to a wetter weather pattern also comes a drop in temperatures. High temperatures will still be in the 90s Tuesday, but additional clouds and showers will drop highs into the 80s for the remainder of the week.