The time for highs in the 90s are running short.
Based on data from the last 20 years, the average number of 90 degree days left in the year is about 1.2. While some years had more than that, many had none. We are going to have at least one more day Wednesday.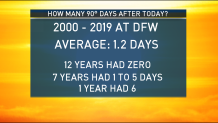 It will be unseasonably warm today with highs near 90 degrees. Areas in the western half of North Texas will see highs in the low, maybe even mid-90s.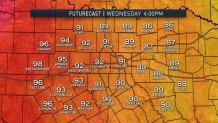 A gusty south wind will develop. Wind speeds will be between 15- 20 mph with gusts up to 30 mph. The dry warm weather will bring an increased risk for grass fires for areas west of 281.
The good news is that the heat will only be around for one day. A cold front will move through North Texas on Thursday, dropping temperatures and kicking up a cool north wind.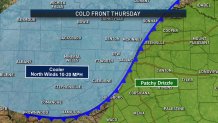 The front will arrive around sunrise and move southeast through the afternoon. A gusty north wind will develop. It will be cloudy with areas of patchy drizzle developing east of I-35E.
Local
The latest news from around North Texas.
Any light rain that develops will not amount to much. Rain totals will be less than one-tenth of an inch.
Highs will be in the upper 70s early then drop through the day. The coolest air arrives Friday. Morning lows will be in the upper 40s and low 50s. Most of the day will be in the 60s with a brief high near 70 degrees.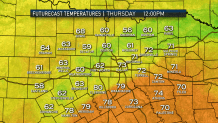 Temperatures will remain quite pleasant into the weekend. An additional cold front is expected Sunday afternoon with a fresh shot of cool air.