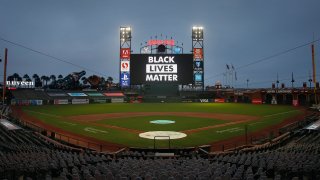 The Dallas Mavericks, Texas Rangers and Dallas Wings have postponed games Thursday as athletes from multiple sports band together in the fight against racial injustice in the wake of the Jacob Blake shooting in Wisconsin.
On Wednesday, players from six NBA teams refused to play postseason games in an act of protest that quickly reverberated across other professional leagues.
Those protests carried over into Thursday leading to a statement from the NBA saying that games scheduled for Aug. 27 would not be played that day and would be rescheduled for a later date.
"NBA playoff games for today will not be played as scheduled. We are hopeful to resume games either Friday or Saturday. There is a video conference call meeting scheduled later this afternoon between a group of NBA players and team governors representing the 13 teams in Orlando, along with representatives from the National Basketball Players Association and the league office and NBA Labor Relations Committee Chairman Michael Jordan, to discuss next steps."
Texas Rangers / MLB
In the MLB on Wednesday, games between the Cincinnati Reds and Brewers in Milwaukee, Seattle Mariners and Padres in San Diego and the Los Angeles Dodgers and Giants in San Francisco were also called off hours before they were set to begin.
On Thursday, more games were pulled from the schedule as the protests continued, including the Rangers, A's, Phillies and Nationals, according to an ESPN report.
"Given the pain in the communities of Wisconsin and beyond following the shooting of Jacob Blake, we respect the decisions of a number of players not to play tonight," MLB said in a statement Wednesday. "Major League Baseball remains united for change in our society and we will be allies in the fight to end racism and injustice."
Said players' union head Tony Clark: "At this critical time, players have been deeply affected by the recent events in Wisconsin and by similar events in other parts of the country. We are proud of the stand that our players have taken, and we remain committed to supporting their efforts to effect change in MLB communities and beyond."
Dallas Stars / NHL
The Dallas Stars are off Thursday. Their next scheduled game is Game 4 of their Western Conference matchup against the Colorado Avs. That game was scheduled for Friday night but will now be rescheduled.
The NHL released the following statement supporting the protests Thursday afternoon, announcing games on Thursday and Friday would be rescheduled.
"After much discussion, NHL Players believe that the best course of action would be to take a step back and not play tonight's and tomorrow's games as scheduled. The NHL supports the Players' decision and will reschedule those four games beginning Saturday and adjust the remainder of the Second Round schedule accordingly.Black and Brown communities continue to face real, painful experiences. The NHL and NHLPA recognize that much work remains to be done before we can play an appropriate role in a discussion centered on diversity, inclusion and social justice.We understand that the tragedies involving Jacob Blake, George Floyd, Breonna Taylor and others require us to recognize this moment. We pledge to work to use our sport to influence positive change in society.The NHLPA and NHL are committed to working to foster more inclusive and welcoming environments within our arenas, offices and beyond."
FC Dallas / MLS
Five Major League Soccer matches were postponed Wednesday night as players made a collective statement against racial injustice.
Players from games between Atlanta United and Inter Miami, FC Dallas and Colorado, Portland and San Jose, Real Salt Lake and LAFC, and the LA Galaxy and Seattle all decided not to play in solidarity. The lone match played was between Orlando City and Nashville SC.
Dallas Wings / WNBA
The Dallas Wings of the WNBA, who were scheduled to play the New York Liberty, also announced they were postponing their game.
"We know it's a very emotional time for our players. They are struggling with what's been happening in this country for months, if not years," said WNBA Commissioner Cathy Engelbert on Wednesday, who said the league supports its players' decisions to not play Wednesday night.
Cowboys / NFL
Though the NFL has not yet started their 2020 season, teams are practicing in preparation for the upcoming year.
The NFL Players Association issued the following statement Thursday:
"The NFL community is united more than ever to support one another in these challenging times. We share anger and frustration, most recently as a result of the shooting of Jacob Blake. While our passions continue to run high, we are proud that our players and clubs, League and Union, are taking time to have the difficult conversations about these issues that affect the Black community and other communities of color in America. We are especially encouraged that these conversations are about how we can come together to make the necessary and long overdue changes in our country. We will continue to not only use our collective platform to call out racism and injustice whenever and wherever it occurs in our country, but also fight together to eradicate it."
New head coach Mike McCarthy tweeted his support Thursday.