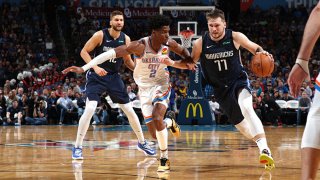 Dallas Mavericks forward Luka Doncic has again sprained his right ankle and is expected to miss a few games, The Dallas Morning News reports.
Doncic rolled his ankle in practice Thursday and now may miss "two weeks, give or take," a source told the paper.
An MRI revealed the severity of the injury as a "moderate" sprain, similar to the one he suffered in December when he missed four games.
The Mavs have eight games to play before the All-Star break (Feb. 13-20). First they'll head to Houston Friday to take on the Rockets -- the team said Thursday Doncic wasn't making the trip -- before games against the Hawks, Pacers, Grizzlies, Wizards, Hornets, Jazz and Kings.
Doncic is slated to start the All-Star game and lead the World team. Whether or not he'll be ready to go remains to be seen.