Former President George H.W. Bush will remain hospitalized through the weekend, according to spokesman Jim McGrath.
Bush, 92, was hospitalized in Houston April 14 with a miled recurrence of a case of pneumonia he had earlier in the year. The pneumonia has been resolved, though he's been held there since for observation of a persistent cough.
Former President George H.W. Bush Hospitalized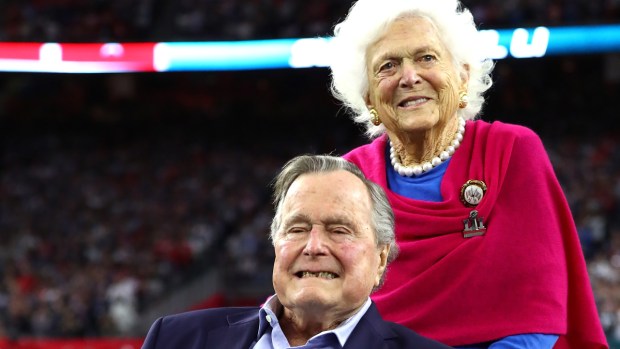 McGrath said Friday that doctors will keep him at the hospital through the weekend to make sure he's got a clean bill of health before heading to Maine. He added that Bush feels terrific and that he's been buoyed by regular visits from family and phone calls with friends such as former Vice President Dan Quayle.
A photograph was posted on Bush's Twitter account Thursday, showing him with his son, former President George W. Bush. Both were smiling, and the tweet included the following from the 41st president: "Big morale boost from a high level delegation. No father has ever been more blessed, or prouder."
Big morale boost from a high level delegation. No father has ever been more blessed, or prouder. pic.twitter.com/ekX4VyG2aO

— George Bush (@GeorgeHWBush) April 20, 2017
McGrath added that the former first lady, Barbara Bush, has been constantly by her partner's side and that they're looking forward to going home.
The elder Bush, who served as president from 1989 to 1993, had spent 16 days in the hospital for treatment of pneumonia in January.
He was hospitalized in 2015 in Maine after falling at his summer home and breaking a bone in his neck. He was also hospitalized in Houston the previous December for about a week for shortness of breath. He spent Christmas 2012 in intensive care for a bronchitis-related cough and other issues.
George H. W. Bush's 1989 Inauguration Speech
Bush has a form of Parkinson's disease and uses a motorized scooter or a wheelchair for mobility. Despite his loss of mobility, Bush celebrated his 90th birthday by making a tandem parachute jump in Kennebunkport, Maine. Last summer, Bush led a group of 40 wounded warriors on a fishing trip at the helm of his speedboat, three days after his 92nd birthday celebration.
George Herbert Walker Bush, born June 12, 1924, in Milton, Massachusetts, also served as a congressman, CIA director and Ronald Reagan's vice president.