Arlington police confirmed multiple people were wounded Wednesday morning in a shooting at Timberview High School in the Mansfield Independent School District.
When and where did the school shooting happen?
The shooting happened at about 9:15 Wednesday morning at Timberview, which is located in the 7700 block of South Watson Road in Arlington.
Police said the incident started as a fight between two students on the second floor of the school when one of the students pulled out a gun and started shooting.
How many people are hurt?
A total of four people, two teens and two adults, were injured, police said.
One of the victims is a 15-year-old boy, who is currently in critical condition in the intensive care unit. A teen female suffered a small abrasion and is expected to be released from the hospital soon in good condition. A 25-year-old male is in good condition. An adult pregnant female was injured but was treated and released at the scene.
Local
The latest news from around North Texas.
The names of the victims have not been released at this time.
Who is the suspect?
The suspected gunman, 18-year-old Timothy George Simpkins, is now in police custody after an hours-long manhunt in North Texas. Simpkins is a student at the school. Police say Simpkins turned himself in with his attorney present. He has been charged with three counts of aggravated assault with a gun.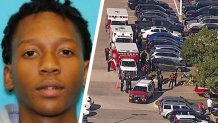 Officers said a .45 caliber handgun was recovered on a street in Grand Prairie. Investigators are currently running ballistics on the weapon.
Is it an active shooter situation?
Officials with the Mansfield ISD called the incident an active shooter situation, but police have since given the "all clear."
What do parents need to do?
Students were safely escorted to school buses and the district's reunification process is underway.
Parents were asked to pick up their students at the Mansfield ISD Center for the Performing Arts, located at 1110 W. Debbie Lane in Mansfield. The Texas Department of Transportation said drivers should expect delays on State Highway 360 near Debbie Lane.
All schools that feed into Timberview High School were on lockout out of an abundance of caution until the Mansfield ISD police department cleared those campuses. A lockout means classes will resume as normal, but no one will be allowed in or out of the building.
As a precaution, the following Arlington ISD schools were on lockout as police searched for the suspect.
Arlington Collegiate High School at Tarrant County College
Ashworth Elementary
Barnett Elementary
Beckham Elementary
Bebensee Elementary
Bowie High School
Bryant Elementary
Hale Elementary
Ousley Junior High
Pearcy STEM Academy
Will Timberview High School have class Thursday?
The district has canceled school on Thursday. All after-school activities, including athletic events and games, are also canceled. Parent-teacher conferences set for Oct. 8 will be rescheduled to a later date.
Counseling is available for students, staff and families Thursday both virtually and in-person at the following locations:
Word of Truth Church: 8201 Webb Ferrell Rd. in Arlington at 7:25 a.m.
Mansfield ISD Center for the Performing Arts: 1110 W. Debbie Ln. Mansfield at 7:25 a.m.
Due to the investigation, the school's principal said no one is allowed access to the school's campus until further notice.
Photos of Active Shooter Situation at Mansfield Timberview High School