What to Know
Slain girl's adoptive father testified Tuesday and was cross-examined Wednesday. He has been sentenced to life in prison.
Dallas County DA said injury to a child by omission charge was the only viable, prosecutable offense.
Charges were previously dropped against the girls' mother, Sini Mathews.
After nearly three days of testimony a Dallas County jury sentenced 39-year-old Wesley Mathews to life behind bars for injury to a child by omission in the death of his 3-year-old daughter who he says died after she choked on milk.
Judge Amber Givens-Davis read the jury's unanimous decision at about 3:30 p.m. after just under three hours of deliberation Wednesday afternoon.
Mathews, while sentenced to life, could receive parole in 30 years.
Dallas County District Attorney John Creuzot said after the verdict was read that the charge of injury to a child by omission was the only viable case the county had against Mathews.
"Based on the facts of the case, this was the only viable, prosecutable offense," Creuzot said. "The DAs Office presented a strong case with the evidence we had to make certain Mathews was sent to prison and to get justice for little Sherin."
Local
The latest news from around North Texas.
Prosecutors said that due to decomposition it was impossible to know exactly what caused the little girl's death.
"Sherin's little body was so badly decomposed, due to the actions of this defendant, the medical examiner could not determine an official cause of death which could have dramatically changed the way we were able to prosecute this case," prosecutor Jason Fine told jurors during the trial Wednesday.
Speaking directly to Mathews, Fine said, "You told investigators Sherin's death was a mistake but by your own words, you caused the death of your daughter and put her lifeless body in a trash bag and disposed of her. I don't call that a mistake, I call it murder."
In the end, the jury of eight men and four women unanimously agreed to send Mathews to prison for life -- the same sentence he'd have had with a capital murder conviction.
The DA's office said Mathews agreed to the plea deal late last year knowing the injury to a child charge carried the same sentence as a murder conviction. Mathews, however, remained adamant throughout the trial that he did not kill his daughter.
After taking the stand in his own defense Tuesday and recalling for jurors the night his daughter Sherin died, Mathews returned to the stand Wednesday morning for cross examination two days after pleading guilty to injury to a child by omission in the girl's October 2017 death.
Wednesday morning, Mathews was back on the stand under cross examination from prosecutors questioning statements made the day before -- some, they said, were different, or more detailed, than what he'd shared previously with investigators.
Regarding a different version of the story, prosecutors specifically asked why Mathews didn't tell police on Oct. 23, 2017 what he told the court on Tuesday, that he took Sherin in the garage because his daughter was fascinated by a new lawn mower they had purchased and that he nodded off while they were out there.
Mathews responded, saying he was under a lot of pain and stress at the time and that he wasn't thinking clearly when being grilled about the details of that evening.
Prosecutors also asked Mathews about statements he made about his adoptive daughter having "defects," referring to the notion he'd felt tricked into adopting a child with special needs. Mathews replied that English is not his first language. Mathews also said, contrary to the statement made by the state Monday, he did mention Sherin in letters he sent from the Dallas County Jail.
During cross, Mathews also told the court he did not dump his daughter in a trash bag, but rather placed her in the culvert in a bag to protect her body. He told prosecutors, after moving his daughter's body, that he didn't do laundry to cover up the crime but to keep his wife Sini from seeing him in his dirty clothes.
Mathews said Tuesday during testimony that he didn't wake his wife, who is a nurse, or call 911 because he didn't want to stop performing CPR on Sherin. Mathews said he made the decisions he made in October 2017 out of fear and that now, looking back, he has a hard time understanding how he made those decisions. When his attorneys asked him if he would do anything differently now, he said, "A very difficult decision would have been made ... to go seek help."
Prosecutors and Mathews sparred over the broken bones Sherin's pediatrician testified to Tuesday. Mathews referred to those as "injuries" instead of broken and/or fractured bones. The prosecution said they are possible indications of abuse.
In one instance during cross examination, Mathews said he did not consider the bag he placed his daughter's body in a "trash bag." Prosecutor Jason Fine walked over to Mathews carrying a blue bag with recycling logos, entered into evidence, like the bag Mathews' admitted to have used when he moved Sherin's body.
"This is a blue bag," asked Fine, showing Wesley the bag.
"Yes, sir," Mathews responded.
"What do you put in this blue bag," Fine asked.
He received no answer.
"What do you put in this blue bag generally, besides your daughter," Fine asked raising his voice.
"I've never used it before," Mathews responded.
Fine told Mathews, "I think you murdered her," to which Mathews replied, "That's your opinion, sir." Fine followed his statement by saying, "You at least admit you caused her death, right?" Mathews replied, "By omission, yes."
Fine said to Mathews, "How about you sign up for a life sentence right now?," to which Mathews replied, "I leave that to the jury to decide. If that's what the jury gives me I'll be happy to take it."
The defense told the court Wednesday morning that they had planned to call more witnesses, but decided to rest their case. Mathews wife, Sini, was not called to testify in her husband's defense.
In closing arguments Wednesday, prosecutors defended showing jurors a "grotesque" photo of the girl's body while reminding the jury of inconsistencies in the defendant's story. Prosecutors also said Mathews has showed no remorse over the girl's death.
Prosecutors also spoke to members of the jury about who they say is the 'real' Wesley Mathews.
"The ME [medical examiner] told, Dr. Ventura told you, it's medically impossible for a child of 3-years-old, who is standing up, to die. It's not possible. So what does that mean to you as jurors? It means he is still a liar," said prosecutor Sherre Thomas.
"She died looking into her father's eyes," added Fine. "Not a dad, a father in name only. That was her life. It ended, we assume in their garage. We don't know. We're never going to know."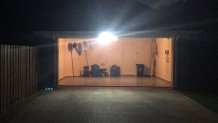 Omair Siddiqi lived just one street over from the Mathews. He's been following the case from the beginning.
He recalls the moment inside the courtroom when Wesley Mathews was sentenced to life in prison.
"I went numb inside. I had tears of joy. And it was powerful. I honestly did not expect a life sentence," said Siddiqi.
Still, the process has left emotional scars. Siddiqi was part of a neighborhood team that searched for Sherin Mathews.
"We still don't know what happened to baby Sherin in that garage that night and I don't think we'll ever know," he said.
The Richardson Police Department released a statement following sentencing:
"The investigation surrounding the death of Sherin Mathews has weighed heavily on the members of our Department and our community. We feel justice has been served with today's verdict of life in prison given to Wesley Mathews by a jury of his peers. We would like to thank the many law enforcement agencies and civilian partners for the resources and time spent on this case. We will always remember Sherin Mathews."
In his closing statements, Mathews' defense attorney Rafael De La Garza said, "Mr. Mathews fell in love with that little girl and gave that girl everything he could, every opportunity. And then there's that one day where he made a bad choice. And another bad choice."
Mathews, who has entered a guilty plea to injury to a child by omission, faces anywhere from probation to life with the possibility of parole.
Defense attorney Rafael De La Garza asked jurors to impose a lesser punishment because the child's death was the result of inaction by her father. He added prosecutors were unable to call any witnesses who ever saw Mathews mistreat his daughter.
Mathews remains in custody on $1 million bond.
Check back and refresh this page for the latest update.

Richardson Missing Girl; Photos from the Investigation
Copyright AP - Associated Press