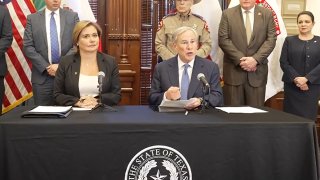 Governors of three of the four Mexican states that border Texas have now reached deals with Republican Gov. Greg Abbott to ease ramped-up safety inspections at border checkpoints.
On Wednesday, Abbott announced he'd reached an agreement with the governor of the state of Nuevo León to increase security on the southern side of the border. With that agreement in place, he said state troopers could return to random searches instead of screening every commercial vehicle entering the state.
On Thursday afternoon, Abbott held a news conference from the state capitol to say he'd reached a similar agreement with the Chihuahua Gov. Maru Campos.
"As a result, the effect will be that the bridge between Chihuahua and Texas will return to normal immediately," Abbott said Thursday.
Abbott later met with the governor of Coahuila on Thursday night and announced a security pact with that state as well.
Abbott was expected to meet with the governor of Tamualipas on Friday.
Abbott said Chihuahua will be using the Sentinel platform, "which is a technological investment of approximately $200 million that will allow Chihuahua state police to track vehicles from the moment they leave an industrial park in Juarez until they cross the border into Texas."
Abbott said Chihuahua would also be using drones to patrol the border.
Texas News
News from around the state of Texas.
"This is a demonstration of a commitment from a strong governor who is working collaboratively with the state of Texas," Abbott said.
BETO O'ROURKE RESPONDS TO GOVERNOR'S SECURITY AGREEMENTS
Democrat Beto O'Rourke, who is running against Abbott for governor in November, says the security agreements between Texas and neighboring Mexican states are tools used to score "political points" and that people aren't falling for it.
"Abbott is the arsonist who torched the Texas economy by shutting down trade with Mexico to score cheap political points. He's responsible for the inflation it's caused and the businesses he's hurt," O'Rourke said in a statement. "Now he wants credit for putting out the fire by announcing these ridiculous 'security agreements.' Texans aren't buying it and we'll never forget the chaos Abbott has caused to our economy and our border communities."
GOV. ABBOTT SIGNS AGREEMENTS TO EASE BORDER CARGO GRIDLOCK
The logjam of trucks at the U.S.-Mexico border finally began breaking Thursday after nearly a week as Texas Gov. Greg Abbott eased off his latest dramatic action over immigration that has gridlocked some of the world's busiest trade ports and taken a mounting economic toll.
"There is a sense of urgency now to reach deals that did not exist before," Abbott said.
The two-term Republican governor, who for days has allowed commercial trucks to backup for miles into Mexico after requiring them to stop for additional inspections in Texas, lifted that order for bridges in El Paso and other cities after announcing a new security agreement with the neighboring Mexican states of Chihuahua and Coahulia.
The rollbacks come as Abbott has faced intensifying pressure over the policy he rushed into place April 6 as part of an ongoing fight with the Biden administration over the flow of migrants and drugs.
Inspection orders remain in other parts along Texas' 1,200-mile border, including the busy Rio Grande Valley, but Mexican trade leaders were optimistic those would also end soon.
Thursday was the second consecutive day Abbott has lifted inspections at some bridges, starting Wednesday with Laredo, which was the busiest U.S. port of entry for trucks last year. Traffic coming into Texas at the Pharr-Reynosa International Bridge, where more produce crosses than any other land port in the U.S., has also resumed after a dayslong protest by Mexican truckers came to an end.
One custom agency based in Mexico, the Association of Customs Agents of Reynosa, on Thursday put the losses at the Pharr-Reynosa bridge at $7 million a day.
The agreements between Abbott and Mexico's governors have varied.
Across from Laredo, Nuevo Leon Gov. Samuel García had told Abbott his state would put in place checkpoints and policing. For Chihuahua, Galvan provided a security plan she said was in the "implementation stage" and includes agreements to share intelligence captured by security cameras and other technology. Later Thursday, Abbott also announced a similar agreement with the Mexican governor of Coahulia.
TRUCKING ASSOCIATION SAYS DELAYS AT TEXAS BORDER CAN'T BE SUSTAINED
Gov. Abbott said his policy to require enhanced security checks is all about border security, but truckers said the decision is costing millions.
John Esparza is the president and CEO of the Texas Trucking Association, an organization that has endorsed Abbott in his reelection campaign. Esparza supports finding a solution with other Mexican state governors but said delays will affect goods going throughout the United States and that they can't be sustained.
"It was not uncommon to hear four, five-hour delays, six, seven, 12 miles of trucks awaiting individual inspections," said Esparza.
Abbott said he understands the concern, but blamed the Biden Administration for not doing more to secure the border.
"But I also know well the frustration of my fellow Texans and my fellow Americans caused by the Biden Administration not securing our border," said Abbott on Wednesday.
"Right now, factually, there is over $1 million in trade crossing over the US-Mexico border every minute. These actions are impacting people's jobs and the livelihoods of hard-working families in Texas and across the country. That's not a political statement, that is a statement of fact," said White House Press Sec. Jen Psaki.
GOV. ABBOTT'S POLICY DRAWS BI-PARTISAN CRITICISM
Texas Agriculture Commissioner Sid Miller, a Republican who has urged Abbott to walk back the inspections order, said Thursday one major agricultural company told him that 100 trucks sent to Mexico for deliveries have been unable to come back across because of the congestion.
He questioned what the holdout achieved, and in the case of Abbott's agreement with Nuevo Leon, said it did not appear substantive.
"They're just basically going to leave it up in good faith," Miller said. "There's no enforcement, no reckoning on that if they don't."
"Typically in the winter months, a lot of our produce, fresh fruits, vegetables, tropical fruit, come from Mexico and Central America. So those are not getting through. They are rotting on the truck," Miller said, adding he hopes an end to the delays comes soon.
The White House, the Mexican government, trade groups and reeling businesses have bashed the extra inspections as redundant and a new burden on an already fragile supply chain.
RIPPLE EFFECT ON U.S. SUPPLY CHAIN ISSUES
Abbott's border inspections come at a time when U.S. supply chains are already overwhelmed. A surge in demand from customers — the result of a surprisingly fast recovery from the devastating coronavirus recession of 2020 — caught businesses by surprise and led to bottlenecks at factories, ports and freight yards. It's also pushed up prices, contributing to the highest inflation in 40 years.
COVID-related factory shutdowns in China and the rocketing cost of shipping goods across the Pacific Ocean have many companies looking to Mexico, where there's no ocean to cross and there's relief from the political and trade disputes between Washington and Beijing.
"A lot of companies, right now, they're looking at Mexico as a way to bypass ocean dependency," said Bindiya Vakil, CEO of the supply chain consultancy Resilnc. "If I'm one of those companies, I'm looking at this new regulation on the Texas border and I'm really concerned because this means additional delays, and that was supposed to be my solution — to go to Mexico and avoid the ocean altogether.''
The U.S.-Mexico border is crucial to the U.S. economy. The United States last year imported $390.7 billion worth of goods from Mexico, second only to China.
But as the inspections taper off in Texas, Abbott says he will continue putting migrants on buses and sending them to Washington, D.C., calling it a message to President Joe Biden. "If he's not going to come to the border, we're going to take the border to him," Abbott said.
U.S. Customs and Border Protection Commissioner Chris Magnus said Thursday that Abbott was moving migrants without "adequately coordinating" with the federal government. The first bus arrived Wednesday, and Abbott said more are on the way.
Copyright NBC 5 News and The Associated Press