A long-serving Texas 5th Court of Appeals justice died Saturday night after his vehicle was struck by a suspected intoxicated driver in a wrong-way crash, Royse City police say.
Bridges, 65, was elected in 1996 to the 5th District Court of Appeals, where he served in Place 6, according to his biography on the Texas Judicial Branch website.
In a statement his daughters Elizabeth and Alex and son-in-law Jeremiah Jensen wrote:
We are heartbroken. David was our pillar. He was a caring husband; a loving father, grandfather, and friend; a passionate patriot; and a faithful public servant. Everything he did, he did with excellence and a heart full of joy. He lived his life like his Lord and Savior Jesus Christ as a servant leader: kind, caring, and purpose-driven. We will cherish his memory forever.
The husband, father and grandfather was born in Forth Worth and served in the U.S. Army in 1973 and 1974.
He worked at the General Electric plant to put himself through Tyler Junior College and UT Tyler. Bridges attended the Texas Tech School of Law after working as a petroleum landman along the Appalachian Mountain range.
Local
The latest news from around North Texas.
His legal career included serving as assistant district attorney in Smith and Upshur counties, and senior disciplinary counsel and first assistant in charge of litigation for the State Bar of Texas.
"I was truly shocked and I'm still in shock and my stomach has been sick all day," said Justice Robbie Partida-Kipness, who was elected to the Texas 5th Court of Appeals two years ago. "The main thing about Justice Bridges was that not only was he a good jurist and devoted a huge amount of his time to public service, but he was a good family man."
She said Bridges was always kind and willing to help the news justices who were recently elected.
Partida-Kipness said Bridges would always ask about her son, who is a Boy Scout. Bridges was an Eagle Scout and passionate about helping others.
"The last conversation I had with Justice Bridges was at the court and the first thing he asked was, 'How's your boy doing?' and I told him, 'He's going to be working on his Eagle project this year.' And he said, 'You just let me know whatever help he needs,' and that's just the kind of man Justice Bridges was, just a very, very decent human being," Partida-Kipness said.
"He was the most senior justice on the court and he was a great help to all of us new justices who were just elected, he was especially helpful to me in the criminal law cases since I didn't come from a criminal background and he did, he was very knowledgeable about criminal law," she said.
"It's very upsetting, it's tragic news. This was a wonderful man, one of those people that had great character, well respected in law school and served in the military," said Toby Shook, a criminal attorney and former prosecutor who went to law school with Bridges.
"It's devastating to the legal community because he was a very well respected justice. Respected by attorneys all across this area, he will be hard to replace, but also it's just going to be a great loss as a leader, he led by example and well respected by all of his friends and colleagues," Shook said.
According to the preliminary investigation, Megan E. Smith, 32, was driving the wrong way about 9:30 p.m. in the westbound lanes of Interstate 30 near Farm-to-Market Road 2642 and struck two vehicles.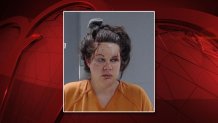 Justice David L. Bridges of Rockwall was in one of the vehicles, which caught fire. Bridges was pronounced dead at the scene, police said.
The driver of the second vehicle was uninjured.
Smith of Royse City was thought to be intoxicated, police said. She was taken to a local hospital with minor injuries.
She faces a charge of intoxication manslaughter and will be booked into the Hunt County Jail after she is released from the hospital.
"He was always well prepared and serious but respectful and always friendly and off the bench, at any events he always had that great smile on his face. He was genuinely interested in people, how they felt, and just a great human being," Shook said.
Justice Bridges lived in Rockwall and served at his church First Baptist Rockwall. According to a family friend, Justice Bridges had a lifelong relationship with Congressman Ralph Hall who was a mentor and friend.