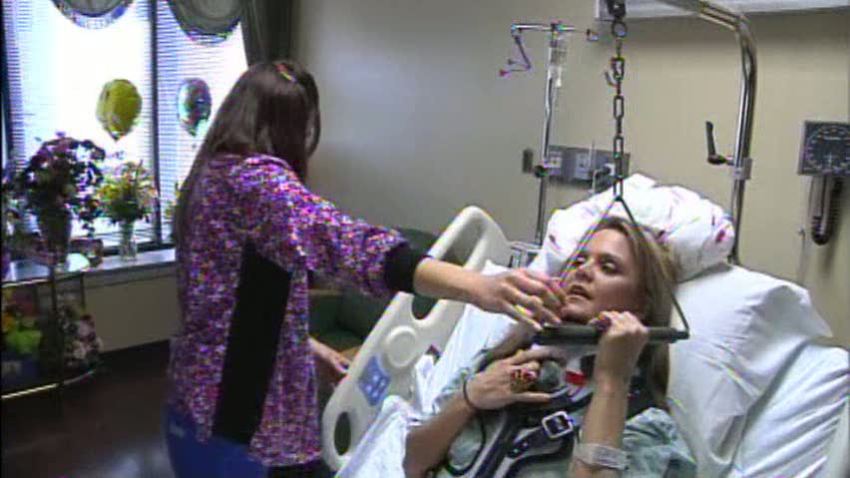 A 28-year-old mother who was stabbed in front of her two children was released from the hospital Monday to begin physical rehabilitation at a Dallas hospital.
Brandi Todd was attacked March 14 while sitting on a bench at Stephenville City Park, watching her children play on the slides. She said she remembers the attack well.
"It was just such a shock," she said.
Local
The latest news from around North Texas.
"I felt the feeling of somebody behind me, and I thought, 'Who's walking around me?' And the next thing I know, it felt like I'd been hit with a baseball bat," she said.
She said she thought she might have been shot when she first saw the blood. A friend rushed to her side to stop the bleeding and told Todd she had been stabbed in the upper back.
"You never think to hear the words, 'You've been stabbed.' Not in Stephenville. Not at the park. Certainly not in front of your kids," Todd said.
Her 8-year-old daughter, Olivia, saw it happen.
"I can just hear her saying, 'Is my mom going to die? Is my mom going to die?'" Todd said. "I didn't think I would die. I knew it was bad. My biggest fear was, not in front of the kids, not at the park."
Doctors at Harris Methodist said her spinal cord is 90 percent severed, leaving her paralyzed from the armpits down.
"I have a tingling sensation that runs up and down my body," Todd said. "I have the sensation of movement in my legs."
Doctors say they are hopeful she can recover enough movement to care for herself and her two children.
"If it depends upon the determination of the patients, there's a 100 percent recovery," said trauma surgeon Dr. Michael Hickey. "I've never seen anyone more determined to succeed."
Police quickly arrested 42-year-old Michael Howard in the attack. At the county jail, Howard told a reporter for a local newspaper that he suffered a long history of mental illness.
He has been charged with aggravated assault with a deadly weapon and is being held on a $750,000 bond.
"Obviously, I'm very mad," said Todd, who grew up near Stephenville in Morgan Mill. "I don't understand why he would do this to me." said Todd,.
"Why he would do it to anybody? But I'm extremely angry," she said.
But Todd said she won't let her anger get in the way of her recovery or in caring for her children.
"(I'm) not going to let the anger take over, because that's not going to help me learn to life again," she said. "It's not going to help my kids learn to deal with this. It's not going to help my parents."
Doctors at Texas Health Harris Methodist in Fort Worth released her Monday afternoon to begin physical therapy at Baylor Hospital in Dallas.
"I'm alive, they're alive," Todd said. "I can use my hands. We're going to be happy. And this is not the end of the world for us."
Todd is uninsured because she has not been at her job long enough to qualify for health insurance. Her family, friends and co-workers in Erath County are raising money to help pay for her medical bills and have established a Web site to help.
Her co-workers at Shreiber Foods in Stephenville are also holding a fundraiser at 10 a.m. on April 10 at Stephenville City Park
"This didn't happen to me," Todd said. "It happened to my kids, my mom and my dad -- you know, everybody that's around me, this has happened to."
Get More:
BrandiTodd.com.