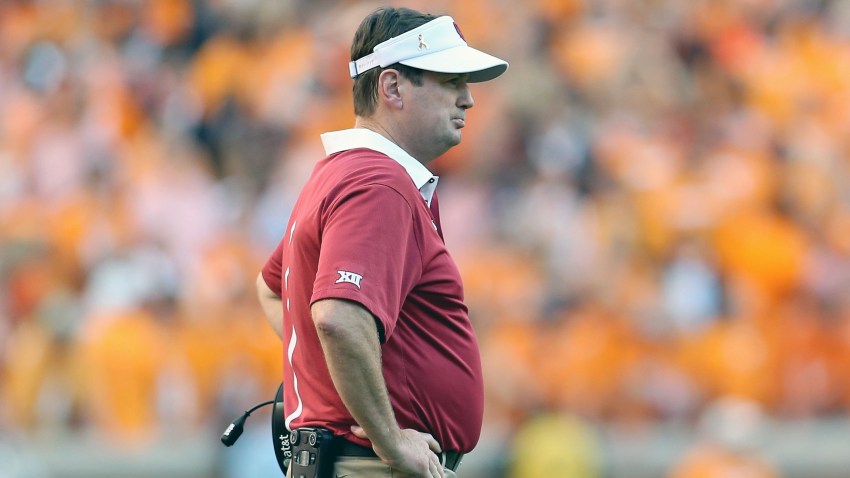 2017 National Signing Day Classes
TCU | Baylor | Texas Tech | UT | Texas A&M | OU
Local Commitments: All | Baylor
Oklahoma has won the Big 12 football championship a record 10 times under coach Bob Stoops.
So it makes sense that the Sooners, who clinched their latest trophy on the field only two months ago, are often the conference champs in recruiting. And they now have another spring title.
Local
The latest news from around North Texas.
The Sooners wrapped up a 27-player signing class Wednesday, including 18 four-star recruits. That gave them a top-10 national class and by far the best in the Big 12.
According to composite rankings of recruiting services compiled by 247Sports , the rest of the Big 12 teams combined to have only 14 recruits that rated as four stars. No Big 12 team other than Oklahoma or Texas has been able to claim the league's top signing class since the late 1990s.
Texas had the league's top class each of the past two years, but is coming off its third consecutive losing season. The Longhorns and new coach Tom Herman still had the second-best Big 12 class ahead of TCU, which was also coming off a losing record.
Stoops often reminds reporters that incoming recruits haven't played yet or even been in a college weight room But even he held nothing back in describing his latest class that includes two of the nation's top 15 running backs -- Trey Sermon of Marietta, Georgia, and Kennedy Brooks of Mansfield, Texas.
"On paper, this might be one of the top two or three classes we've had since I've been here," said Stoops, the Sooners coach since 1999. "It's a really hungry group, and a deep class that covers all of our positions in a really positive way."
The Sooners needed runners since Samaje Perine and Joe Mixon both chose to leave school early, and also added a junior college running back.
Other things to know:
HERMAN'S HORNS: Herman had been tamping down expectations of this "transitional" class and he signed a class far below the lofty national rankings Texas fans have come to expect. The Longhorns signed four-star Austin quarterback Sam Ehlinger but were spurned by Austin OT Stephan Zable (UCLA) and Houston DT K'Lavon Chaisson (LSU). While 247Sports ranked Texas as the league's second-best class, it was still outside the top 25 nationally.
Herman said the goal was to "make sure that we were bringing in quality young men that we had relationships with that we knew could fit our culture, our way of doing things. ... We are really, really excited about where they fit in terms of the needs that we saw on this roster."
NOT A HIGH FIVE: None of the Big 12's 10 teams, not even Oklahoma, had a five-star signee.
LATE PUSH: When Matt Rhule became Baylor's coach two months ago, there was only one recruit committed to the Bears. Despite the lingering cloud from a sexual assault scandal, Rhule and the completely new Baylor staff were able to sign 27 players (14 on defense and 13 on defense). Most of the players were from Texas, but there were also three signees from New Jersey -- the area Rhule recruited heavily in his previous job at Temple.
HANDING THE REINS: West Virginia coach Dana Holgorsen has been his own play-caller on offense. He is handing those duties over to offensive coordinator Jake Spavital, who returned to WVU last month. The Mountaineers also have to find someone else to run the offense on the field after the graduation of Skyler Howard. They didn't sign any quarterbacks Wednesday, but Holgorsen said it's possible another could be added in the coming months.
SUNKEN SUNFLOWERS: Kansas State and Kansas are near the bottom of the Big 12 rankings. Still, Jayhawks coach David Beaty may have found his quarterback of the future, along with a running back who was his teammate at a Mississippi junior college (former Washington State quarterback Peyton Bender and running back Octavius Matthews).
Complete list of signings:
Robert Barnes, s, 6-3, 200, Carroll HS, Southlake, Texas
Justin Broiles, cb, 6-0, 180, John Marshall HS, Oklahoma City, Okla.
Kennedy Brooks, rb, 6-0, 195, Mansfield HS, Mansfield, Texas
Marquis Brown, wr, 5-11, 175, College of the Canyons, Santa Clarita, Calif.
Tre Brown, cb, 5-11, 180, Union HS, Tulsa, Okla.
Grant Calcaterra, te, 6-4, 220, Santa Margarita Catholic HS, Santa Margarita, Calif.
K'Jakyre Daley, olb, 6-3, 215, Suncoast HS, Riviera Beach, Fla.
Levi Draper, ilb, 6-3, 222, Collinsville HS, Collinsville, Okla.
Adrian Ealy, ot, 6-6, 280, East Ascension HS, Gonzales, La.
Addison Gumbs, olb, 6-4, 215, Stellar Preparatory HS, Hayward, Calif.
Jeremiah Hall, te, 6-3, 225, Zebulon B Vance HS, Charlotte, N.C.
Marquis Hayes, og, 6-6, 320, Pattonville Sr. HS, Maryland Heights, Mo.
Creed Humphrey, c, 6-4, 301, Shawnee HS, Shawnee, Okla.
Troy James, dt, 6-3, 280, Madison Preparatory Academy, Baton Rouge, La.
Ryan Jones, db, 6-2, 220, Mallard Creek HS, Charlotte, N.C.
CeeDee Lamb, wr, 6-3, 190, Foster HS, Richmond, Texas
Tyreece Lott, dt, 6-3, 265, Ardmore HS, Ardmore, Okla.
Zacchaeus McKinney, dt, 6-4, 280, Weatherford HS, Weatherford, Texas
Reeves Mundschau, p, 6-0, 170, Canyon HS, New Braunfels, Texas
Kenneth Murray, olb, 6-2, 215, Ft. Bend Elkins HS, Missouri City, Texas
Tre Norwood, cb, 6-0, 170, Northside HS, Fort Smith, Ark.
Charleston Rambo, wr, 6-1, 175, Cedar Hill HS, Cedar Hill, Texas
Tyrese Robinson, og, 6-4, 310, McKinney Boyd HS, McKinney, Texas
Chris Robison, qb, 6-2, 192, Horn HS, Mesquite, Texas
Trey Sermon, rb, 6-1, 216, Sprayberry HS, Marietta, Ga.
Marcelias Sutton, rb, 5-10, 195, Lackawanna College, Scranton, Penn.
Isaiah Thomas, de, 6-5, 230, Memorial HS, Tulsa, Okla.
Copyright AP - Associated Press