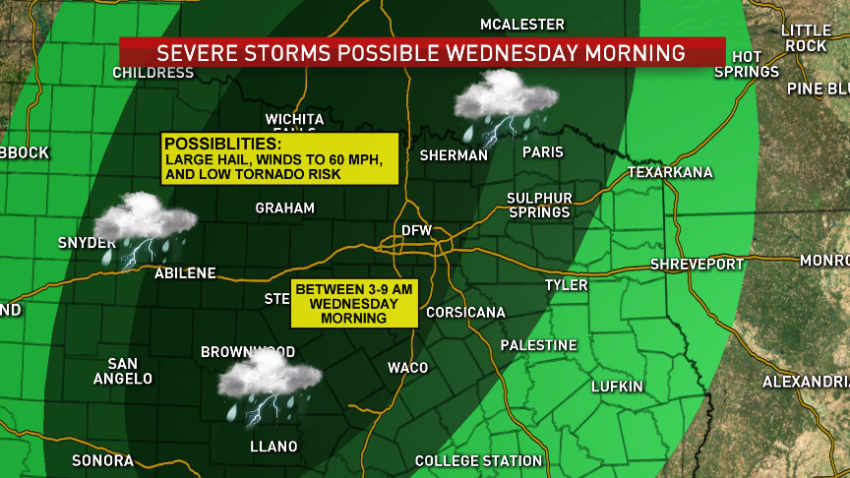 S Band Radar & Maps | Forecast | Weather Alerts
Traffic | Send Us a Photo/Video | Live Cams
As spring break gets underway for many school districts across North Texas, Mother Nature is putting a damper on those plans in the form of three days with showers and thunderstorms in the forecast. It certainly won't be raining the whole time, but the frequency of rain will make for less-than-ideal conditions to be outside.
Mostly spotty areas of light rain will affect North Texas Monday, although a couple brief thunderstorms could develop in the late afternoon and evening, especially farther north.
Tuesday will offer more in the way of spotty showers and thunderstorms. Since temperatures will be warmer (60s), there could be a couple that are more robust. Even still, widespread severe weather is not expected Tuesday.
Things will change a bit by Wednesday when a powerful storm sytem arrives. It's looking more likely that a line of strong to severe thunderstorms will be possible early in the morning. Some of these cells could produce winds over 60 mph, hail, and perhaps even a low tornado risk.
The latest video forecast from NBC DFW team of Weather Experts will appear in the player above. Keep up with the latest changes to the weather by downloading the NBC DFW smartphone App for iOS and Android!
By Wednesday afternoon, the sun will be shining, but it will be a very windy day. We will be dry for the rest of Spring Break. Unfortunately, we will also be on the cool side with highs in the 50s to lower 60s into next weekend.
Before all is said and done this week, some spots in North Texas could pick up 1-3 inches of rain.
Get the latest forecast information from NBC 5's team of Weather Experts here.
Local
The latest news from around North Texas.
---
---