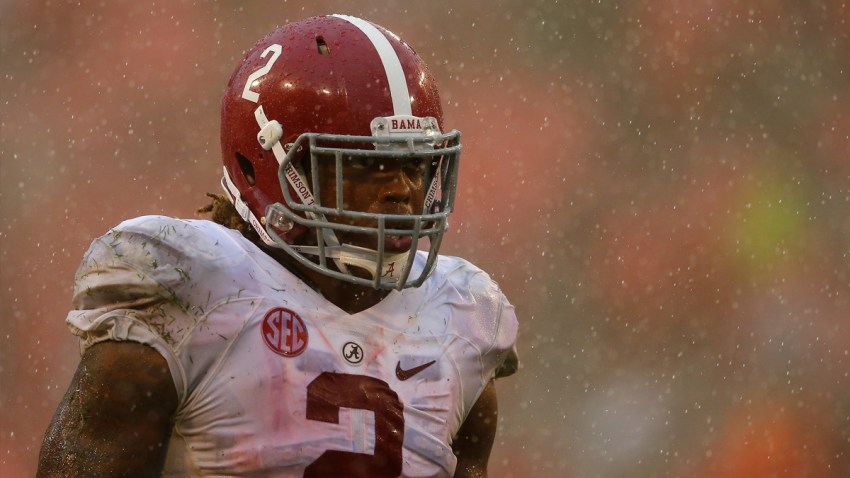 Derrick Henry, RB, Alabama
Ht. 6'3", Wt. 247, Arm: 33, Hand: 8 34, Bench: 22
40 yd: 4.54, 10 yd.: 1.61, 3 Cone: 7.20, Vertical: 37", Broad: 10'10"
Games Watched: Ole Miss, Florida, Clemson
If you think other games better reflect this player's ability or you want to request a profile on a specific player, email me or hit me up on Twitter.
Derrick Henry ran for 4,261 yards as a senior — yes, one year — to give him more than 12,000 for his career, breaking a 51-year-old high school rushing record. The five-star recruit then headed to Alabama, where he averaged 10.9 yards per carry and caught one pass for a 61-yard TD as a freshman. He continued his part-time role as a sophomore, running for 990 yards and 11 TDs on 172 carries.
Henry became the Tide's full-time starter as a junior when TJ Yeldon left for the NFL. He responded with 2,219 rushing yards and 28 TDs on 395 carries. He led all FBS runners in rushing attempts, yards and touchdowns and set SEC single-season records in those categories. By the end of the year, he was named first team All-America and won the Doak Walker and Maxwell awards, the Walter Camp Player of the Year and the Heisman Trophy.
Local
The latest news from around North Texas.
Strengths
• Size - Mountain of a back
• Speed - Excellent long speed for his size
• Athleticism - Elite, basically Von Miller as a running back
• Production - Simply churns out yards
• Patience - Willing to let running lanes develop
• Vision - Good initial reads
• Stamina - Held up over significant touches
• Falls Forward - Maximizes each carry
Weaknesses
• Workload - Only one year, but topped 400 touches
• Alabama Stigma - Rumors of playing through injuries, etc.
• Change of Direction - Lacks top lateral quickness
• Pass Protection - Inconsistent effort, technique
• Pad Level - Runs tall naturally
• Scheme Fit - Not as effective in zone runs
Verdict: Second-Round Pick
Henry is a punishing runner and a load to tackle when he's moving north and south. He's an elite athlete with undeniable NFL potential and has broken records at every level so far, but his 2015 workload is a concern. His immediate impact will also be mitigated by his shortcomings on passing downs.
If the Cowboys are looking for a 2016 feature back in this draft, there are better options than Henry. If they want to go back to the zone runs that were so effective in 2014, there are better options than Henry. If they're looking for upside at a position of need and are willing to tailor the running game appropriately, Henry makes sense somewhere in the second round.