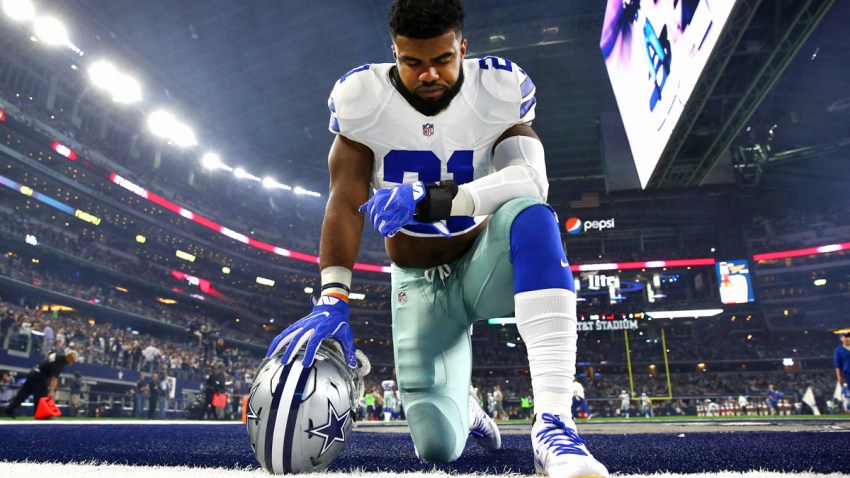 How do you face suspension from the league if criminal charges were dropped?
That's the question many Cowboys fans are currently asking themselves when it comes to the running back for America's team.
ESPN's Adam Schefter is reporting that Ezekiel Elliott is bracing for a one or two-game suspension from the NFL concerning his alleged domestic abuse situation. Prosecutors in Ohio have already cleared Elliott. However, the NFL continues its investigation. Schefter added Elliott still has to respond to the NFL's findings and the report it sent him on its investigation
Local
The latest news from around North Texas.
In July of last year, photos popped up on Instagram by a 20-year-old woman who was reportedly Elliott's ex-girlfriend, showing several bruises on her knee, arms and neck. The woman told police that Elliott assaulted her while they were sitting in her car.
Elliott's agent responded by saying, "I can assure you the allegations are not true." The City Attorney's Office in Columbus, Ohio, said they would not press charges after witnesses stated they didn't see an assault take place.
Right now, the suspension talk is all based off speculation. There may not be a suspension at all. However, Schefter added that one person said, "It looks like the NFL is trying to pin something on him."
The Cowboys' front office states they haven't heard anything about a possible suspension. Once again, things are getting interesting right before the start of training camp at the end of the month.
Now, as crazy as it may sound to Cowboys fans, the idea of trading Elliott has been thrown out there on social media and podcasts. Some see Elliott as a potential headache that no aspirin will cure. Recently on the Ringer NFL Show, former NFL executive Mike Lombardi agrees with most, it's just not going to happen and the theory is too much of a stretch. Lombardi states that the minute the Cowboys pick up the phone and say they are willing to trade him; red flags will go up around the league with other general managers thinking there's something wrong.
Now if there is a suspension, Elliott could possibly miss the first two games of the season, Week One in Arlington against the New York Giants and Week Two on the road in Denver. This would do the Cowboys no favors going into the season, especially with a first-place schedule this time around.
Defensive end David Irving is already facing a four-game suspension for a PED violation. Linebacker Damien Wilson is facing a possible lengthy suspension for aggravated assault with a deadly weapon after what he described as a "road rage" incident in Frisco on the Fourth of July.
This is the time of year that makes coaches around the league nervous and for good reason. Players are basically left alone, away from the teammates and the coaching staff and the last thing any team needs is offseason distractions going into the season.
When it comes to the Elliott situation, it could be nothing but rumors running wild. If there is truth to it and a suspension does come down, it's not a good start to the season for the Cowboys.