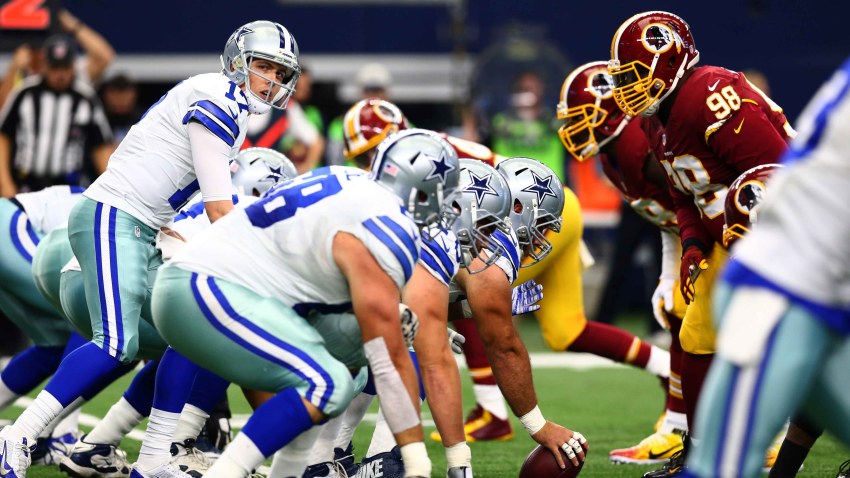 10. Sean Lee's a great guy and a very good player. But stop the sentiment that the Cowboys should pay his $2 million bonus even though he didn't play in 80 percent of the defensive snaps this season. $2 million will sign some draft picks, or even a mid-level free agent next summer. Lee sat out the finale with a tight hamstring. Sad? Yep. Too bad? Exactly. Football, we're reminded, is a tough business.
9. After watching Brandon Weeden's horrific three starts, it's almost impossible to believe the Cowboys trotted out two quarterbacks worse than him. But, indeed, Matt Cassel and Kellen Moore were worse. Much, much worse. And, sorry, but in NFL history has there ever been a more hollow and meaningless 435-yard, three-touchdown performance than Moore's today? Didn't win a game. Didn't secure a job. Nothing but empty numbers.
8. I'm not sure if I've ever been so unaffected by a Cowboys' blowout loss to the Redskins. The whole game had the feel of August, not January. High point was Jason Witten's clawing, crafty touchdown catch, which was only the Cowboys' 24th TD of the season (2nd-lowest output in franchise history).
Local
The latest news from around North Texas.
7. From the department of wishful thinking: Redskins' quarterback Robert Griffin's family attended today's game … wearing custom-made RGIII Cowboys' jerseys.
6. In July Dez Bryant signed a five-year, $70 million contract. What did the first year net the Cowboys? Would you believe 31 catches, 401 yards and only three touchdowns? This injury-plagued season, on the heels of a three-year span where the star receiver averaged 91 catches, 1,311 yards and 13 touchdowns. Ouch.
5. One of the worst signs of 2015 was the drastic regression of safety J.J. Wilcox. His awkward and ineffective angles in the passing game were just confounding. On Pierre Garcon's first-quarter touchdown catch, Wilcox meandered over and planted himself a good yards three short of where the ball landed – right into the waiting arms of the receiver. But then Wilcox made an aggressive move and nice tackle for a fourth-quarter safety. Maybe his future – like former Cowboy Roy Williams – is as a linebacker?
4. Shame, shame, SHAME! As Redskins' defensive back Dashaun Phillips lay motionless on the ground and awaiting a stretcher after absorbing a violent hit from Darren McFadden, the historically stoic and inept AT&T Stadium crowd had the audacity to do "The Wave." Inexcusable.
3. Happy New Year to McFadden! Today he surpassed 1,000 yards rushing, which allowed him to cash in a $300,000 contract bonus. Of course for a guy who sold his house last summer for $2.5 million it's probably no biggie. But, nonetheless, McFadden shocked us all by playing in all 16 games and rushing for almost 1,100.
2. McFadden's fumble at the 1-yard line for a touchback is a legit candidate for the Cowboys' Play of the Year. But I still defer to Matt Cassel's intentional grounding interception against the Jets. So many pratfalls to choose from.
1. Tank you very much, Cowboys. Today was gruesome. But in securing them a Top 5 pick in next April's NFL Draft, it was also perfectly gorgeous. The line between purposely tanking and organically sucking was very blurry. Four wins. Their worst season since the infamous 1-15 in 1989.

A native Texan who was born in Duncanville and graduated from UT-Arlington, Richie Whitt has been a mainstay in the Metroplex media since 1986. He's held prominent roles on all media platforms including newspaper (Fort Worth Star-Telegram, Dallas Observer), radio (105.3 The Fan) and TV (co-host on TXA 21 and numerous guest appearances, including NBC 5). He lives in McKinney with his wife, Sybil, and two very spoiled dogs.
Copyright FREEL - NBC Local Media