A Plano man is in custody after two people, including his sister, were found fatally shot Wednesday evening inside a Plano home.
Blake Ryan Richards, 29, is charged with capital murder and is being held in the Collin County Jail on a $1 million bond.
Richards, police said, is accused of shooting and killing his sister, 29-year-old Brittany Rayne Richards, and her boyfriend, 26-year-old Ross Linford Escalante.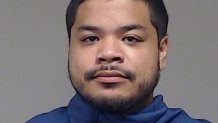 Officers in nearby Richardson were first called to do a welfare check at a home in that city.
When officers reported nothing out of the ordinary at that location, the person who called the police then asked them to then check a house in Plano city limits.
That investigation led officers to do a welfare check at about 7:30 p.m. at a home in the 5800 block of Mulvane Drive in Plano. When officers arrived, they found the front door was open and two individuals, Richards and Escalante, were dead inside with multiple gunshot wounds.
Local
The latest news from around North Texas.
Police said they were then led to a Target parking lot in Wylie where they arrested Richards without incident.
"All we know is that someone else that was concerned about this individual and this individual's family called in and wanted to check because they were concerned about some statements that have been made previously, about possibly an injury or something like that, so we were just checking the welfare of everybody involved," Plano police spokeswoman Alexandra Cole said.
The Plano Police Department was leading the investigation.
Residents in the neighborhood were shocked to hear of the murder.
Lap Pham lives next door to the couple. She says they moved in a few months ago and were renting the two-story house.
"I just saw them. I didn't know them," said Pham.
She remembers hearing a loud noise Wednesday evening while in her kitchen but did not know whether it was gunfire. Another neighbor told NBC 5 her son was studying when he heard what sounded like fireworks.
Pham said she saw police arrive about two hours later.
Police detectives placed yellow tape on a window with a bullet hole near the home's front entrance.
Hours after the scene was partially re-opened, a local news photojournalist gathering video in the neighborhood discovered a bullet hole in a mailbox across the street from the window with the bullet hole. The photojournalist reported his finding to an officer who opened the mailbox and found a bullet still inside. Plano Crime Scene investigators were called back to the scene to gather the potential evidence.
The motive for the shooting is not yet known.